Twitter abuzz: Shares surge 73% after hitting NYC floors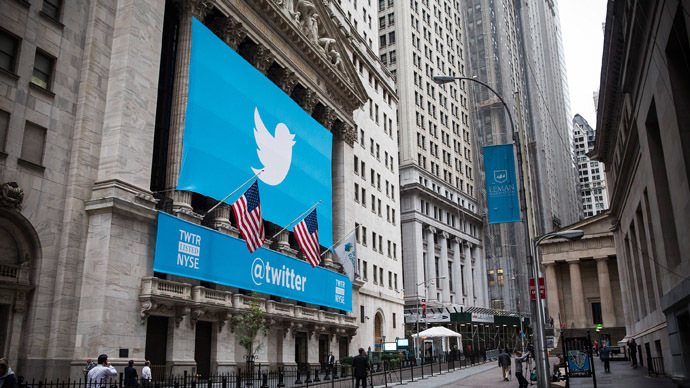 'TWTR' made its Wall Street debut at $45.10, nearly double its public offering price of $26, and peaked just above $50 before stabilizing at $44.90 at New York market close. The microblog's founders became instant billionaires.
The spectacular IPO raise $1.82 billion, with all 70 million shares sold and gave the San Francisco-based firm a value of $24.9 billion at the end of trading on the New York Stock Exchange (NYSE) Thursday, outperforming the IPO expectation of $18.3 billion.

The IPO, so far, has validated the leadership of CEO Dick Costolo, who took over company reins in 2010, Twitter's third CEO in 3 years. Costolo said he 'wouldn't change anything' about the 'secret' IPO process, which kept numbers hush hush until just 3 weeks before the IPO.


November 7, 2013





Investors will wait and see if the 'Facebook slump' hits the hot social media company stock. The day after Facebook went public on Nasdaq in May 2012, stock fell 11 percent after the hype settled.

On Thursday, Twitter's social media competitors fell- Facebook by 3.2 percent and LinkedIn by 4.2 percent.

The hot social media company, which has promising investing, but isn't yet profitable, will rely on investor interest in its burgeoning revenue.

Its third quarter revenue was $422.2 million. In 2012 revenue almost tripled and reached $317 million. The company filing predicts sales will hit $1 billion in the next year.

Journalists outnumbered traders on the floors at the third largest IPO in the US this year, after a nine-year old girl (who herself has a Twitter account) a member of the Boston Police Department, and actor Patrick Stewart from Star Trek, rang the opening bell.

Like other social media, Twitter, at any moment, could be eclipsed by 'the next big thing'.  Analysts warn Twitter's shares could flop because of the threat posed by new social media players such as Pinterest, Snapchat, and Instagram. 

The initial public offering was priced at $26.00, higher than the original pitch of $17.00, and even higher than the final anticipated range of $23.00-$25.00. The $26.00 share price decision raised $1.82 billion in the initial public offering, giving the company a value of $18.3 billion.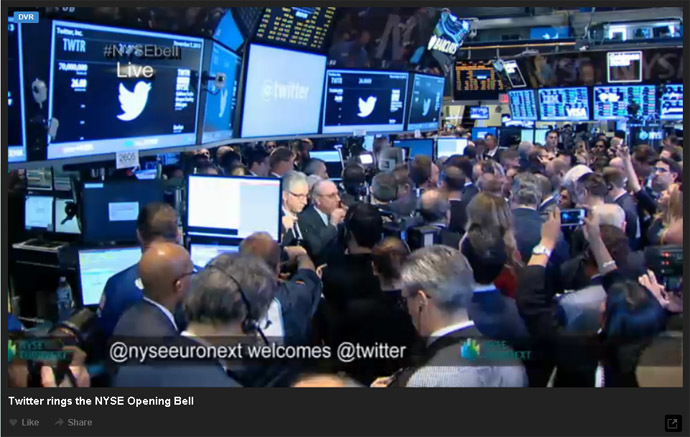 To avoid a similar slip-up at Facebook's IPO, when a technical glitch caused delays, the NYSE did a test run for Twitter, predicting trading scenarios to make sure systems could withstand heavy investor traffic.
There are still  554.7 million shares  outstanding, as well as 10.5 million the underwriters have an option to buy later.

The eight-year-old service only gave potential investors a first peek into its financial records when it released its prospectus in a Security Exchange Commission (SEC) filing on October 3 2013, nearly a month after Twitter announced it confidentially filed for in IPO on September 12.
The IPO will transform top shareholders into stock-portfolio billionaires.

Jack Dorsey, the co-founder and chairman holds 4.9 percent or 23.4 million shares in the company. Other shareholders include Evan Williams, co-founder with 12 percent, or a 59.6 million share stake, Peter Fenton, a Benchmark Capital partner with 6.7 percent, and CEO Costolo with 1.6 percent.

All capital raised on Thursday will go straight back into the company, Costolo said. IPO money will be used for blazing international expansion. About 77 percent of users are international, yet the firm still makes 75 percent of its revenue inside the US. Ad space 'per timeline view' inside the US costs $2.58, and internationally, only $0.36.

Twitter was launched by CEO Jack Dorsey on March 21, 2006 with just 24 characters, when he tweeted, "just setting up my twttr." It has so far attracted more than 230 million users worldwide and become one of the most popular ways to share information online. It has become a uniquely live way to share information that newsrooms, protestors, and public figures use to transmit information in real time. Katy Perry has the most 'Twitter capital' - with 46.5 million followers, 7 million more than President Obama,

Goldman Sachs was listed as the main underwriter, along with Morgan Stanley, JPMorgan Chase & C., Bank of America Corp., Deutsche Bank, AG, Allen & Co., and Code Advisors.