Market Buzz: Greek uncertainty protracts
Published time: 21 May, 2012 05:45
Edited time: 21 May, 2012 09:51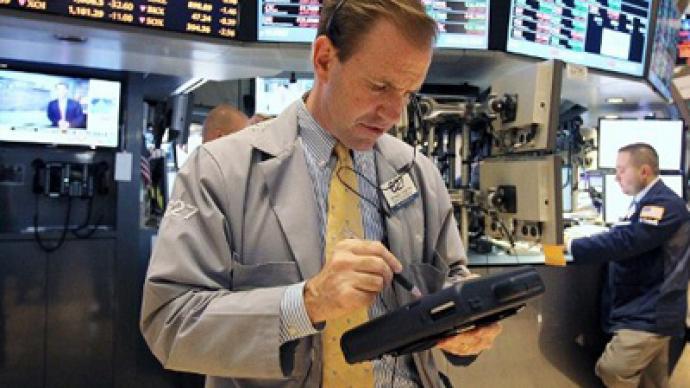 Russia floors are expected to be largely following sinking world stocks, with investors unconvinced that the world's major economies nailed a solution to the European debt crisis at a Camp David summit on weekend.
An informal European meeting on Thursday, May 24, will be the major global market driver this week.
Domestically, Monday trading will have little news peg, with Russian stocks likely to have some respite and win back some of the losses of the past week, says Ilya Rachenkov, an analyst from Investcafe.
Last  week leaders of the world's most powerful nations issued a statement calling for both painful cutbacks and growth-promoting measures to deal with a crisis that threatens the global economy. But actual steps were left up to individual countries to take.
"Although G8 leaders made plenty of noises about combating the crisis and shifting focus towards growth, there was as usual little concrete news in terms of how they would do this,'' analysts at Credit Agricole CIB in Hong Kong said in an email.
The statement comes as markets look ahead to an informal European summit meeting Thursday, and to a June 17 election in Greece. An indecisive poll May 6 left no Greek party with enough votes to govern. A new government that rejects the austerity required under bankrupt Greece's 130-billion-euro bailout from other eurozone countries could lead to it abandoning the euro and spreading financial chaos.
China – the world's second-biggest economy – came as another investor concern, as its growth has slowed abruptly. Industrial output in April fell to its lowest level since the 2008 financial crisis and consumer spending and home sales were unexpectedly weak. This jarred hopes the country can achieve a "soft landing" with growth rebounding next year.
The oil markets kept on falling, as OPEC members remain insisting that Brent should be priced at $100/bbl. Benchmark oil for June delivery fell $1.08 to settle at $91.48 in New York on Friday.
WTI currently stands at $91.9/bbl, while Brent is traded at about $108/bbl.
Both the RTS and the MICEX closed Friday's session in the red. The RTS lost 1.21% to stand at 1, 286.73, while the MICEX fell 1.27% – to 1, 271.48.
Negative data on Russia's industrial output added pressure for Russian markets. In March the figure added just 1.3%, which compares to forecast 2.9%.
"This has been an anti-record for Russia since the latest world economic crisis," Vitaly Mikhalchuk of Investcafe explained.
In the US, the Dow Jones industrial average lost 0.6%, marking a 3.5% fall for the week. The S&P 500 was down 4.3% in the same period – the steepest weekly decline of 2012. It closed below 1,300 for the first time in four months. The index is down 7.3% so far in May and could go down further the coming week, as uncertainty over Europe remains. The Nasdaq fell 1.2% Friday and 5.3% for the week.
European stocks also closed down. Britain's FTSE 100 lost 1.3%, the DAX in Germany fell 0.6% and France's CAC 40 dropped 0.1%.
In Asia, sharp sell-offs last week presented bargain-hunting opportunities. Japan's Nikkei 225 index came off four-month lows to rise 0.3% at 8.633.94. Australia's S&P/ASX rose 0.2% to 4,055.90. But Hong Kong's Hang Seng was down 0.2% at 18,919.3. Singapore and Indonesia also fell.