Market Buzz: Under pressure from Greece and oil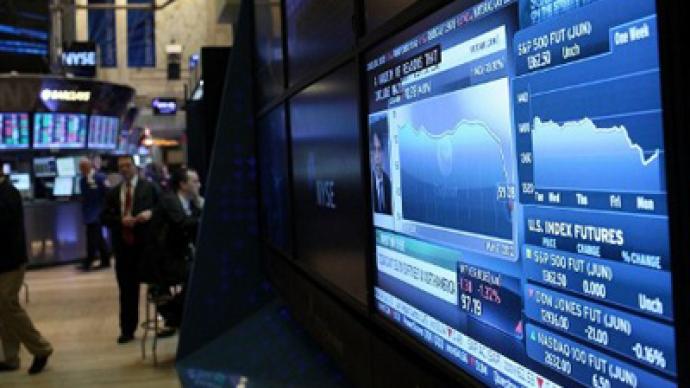 Russian investors are expected to stick to prudent strategy and shed risky assets during the coming trading week. Lingering uncertainty about crisis-stricken Greece, as well as falling oil prices will be weighing on the floors.
Investor nervousness remains rampant because of political uncertainty in Greece and the possible fallout for the rest of the region. The Greek parliament's inability to form a coalition government has taken the country one step closer to new elections and brings its continued membership in the euro into serious doubt."A reshuffle in the Greek parliament… could become the first accelerator for the sellers to become active," said Spartak Sobolev from FOREX CLUB. A switch from risky assets will keep on damaging the oil market, making "oil futures look for a 'new bottom," adds Sobolev. Another burden for the market comes from Saudi Arabia – a top crude exporter. According to Oil Minister Ali al-Naimi talking on Sunday, the country wants an oil price of around $100 a barrel and would like to see global inventories rise before demand picks up in the second half of the year.This is critical for Russia, as Brent has already lost more than 10% since the start of May, says Vyacheslav Novozhilov of Investcafe. Benchmark oil for June delivery was down 60 cents to $95.53 a barrel in electronic trading on the New York Mercantile Exchange. The contract fell 95 cents to settle at $96.13 in New York on Friday.Among news to drive the markets this trading week is preliminary data on the eurozone 1Q 2012 GDP, as well as statistics on business activity from the German ZEW Institute. Also, some expect a hint on another round of quantitative easing (QE) from the US Fed to be released on May 16. Nikolay Solabuto from Trade Portal says the chances for another money injection are minor. Among other events, Solabuto expects the Facebook IPO, that's scheduled for May 17, to be leading the headlines.Both the RTS and the MICEX finished Saturday trading in the red. The RTS lost 0.7% to stop at 1,454.35 and the MICEX was down 0.44% to 1, 385.81.Wall Street ended last week with a decline after JPMorgan said it lost $2 billion on poorly-thought-out trades. The Dow Jones industrial average fell 0.3% Friday to 12,820.60.European shares opened lower on Monday, as Greece uncertainty weighs. The UK's FTSE was down 50 points lower at the open, with the German DAX looking set to open 72 points lower and the French CAC also looking to be 33 points lower.Asian shares quickly lost early gains and ended slightly lower Monday morning as optimism over a move by China's Central Bank to encourage lending was offset by lingering uncertainty about capsizing Greece.Japan's Nikkei 225 Index ended morning trading barely changed, down marginally at 8,952.66, erasing an initial surge brought by the China news. South Korea's Kospi also fell, down 0.6% at 1,904.74.The benchmark Shanghai Composite Index slipped 0.4% to 2,384.50 while the Shenzhen Composite Index lost 0.3% to 957.46. In China, investors appeared underwhelmed by the reserve rate cut, following a slew of disappointing data late last week. The People's Bank of China announced that the bank reserve ratio requirement is being reduced by half a percentage point as of next Friday. The move brings the rate down to 20% for most major banks and effectively frees up billions of dollars for lending.
You can share this story on social media: