Market Buzz: Moscow's lone trading 'under the red flag'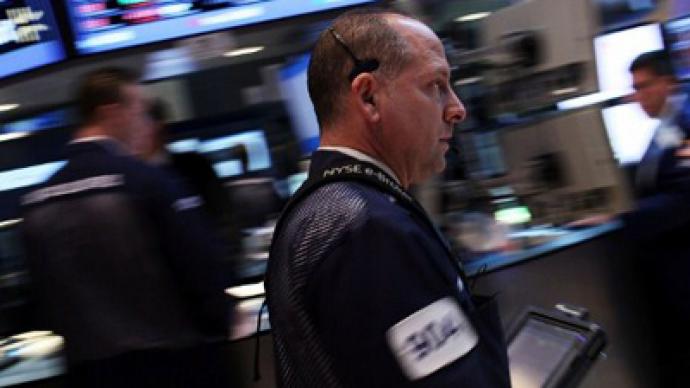 Russian markets are expected to remain in the red this Saturday, while international counterparts are shut for the weekend. JP Morgan Chase losses and poor stats from China, as well as lowering oil will be the main drivers, experts say.
Saturday trading in Russai will be flat, as "investors and speculators won't be consumed with desire to make any movements without support from foreign colleagues," says Pavel Emelyantsev of Investcafe.Russian stocks moved downwards on Friday, with the RTS  losing 1.69%  before finishing at 1,464.30. The MICEX also ended a day of falls on 1,392.00.$2 billion losses at the biggest US bank JP Morgan Chase – which successfully rode out the 2008 turmoil – prompted investors to sell, says Vitaly Mikhalchuk of Investcafe. The bank's share-price fell 9.3 %, dragging other Wall Street banking giants down with it. Morgan Stanley fell 4.2%, Goldman Sachs lost 3.9 % and Citigroup was down 4.2%.Falling oil prices lowered consumer prices in the US for the first time in 4 months, with the annual rate of inflation reaching its lowest level since October 2009 at 1.9%. However, these positive figures released in the second half of Friday didn't translate much into market trends. For Russia, falling oil is troublesome, as overall losses in the price of black gold reached 6.4% since March, calculates Emelyantsev. WTI is currently traded slightly above $95/bbl, with the Brent Crude standing at about $112/bbl.  The Dow Jones industrial average fell 34.44 points to close at 12,920.60, with the Standard & Poor's 500 index falling 4.60 points to 1,353.39 while the Nasdaq composite index was up 0.18 points to 2,933.82.April statistics for China came as another disappointment for traders, with economic growth of 8.1% in the first quarter of 2012 the slowest since 2009. Growth for the previous quarter was 8.9%.In Russia, dividend cuts dragged some big stocks down. Gazprom shares lost 4.8%, Avtovaz was down 3.5% and Lukoil fell 1%. Russia's state oil giant Rosneft confidently bucked the trend, gaining 2.5% during the day. In Europe, the CAC-40 in France was 0.7 percent lower at 3,107. Britain's FTSE 100 ended up 0.6% and Germany's DAX rose 1%.  In Asia, Japan's Nikkei 225 index fell 0.6% to 8,953.31 and South Korea's Kospi was down 1.4% at 1,917.13. Hong Kong's Hang Seng fell 1.3% to 19,966.17.
You can share this story on social media: