Market Buzz: Greece and oil change?
Published time: 17 May, 2012 05:29
Edited time: 17 May, 2012 09:29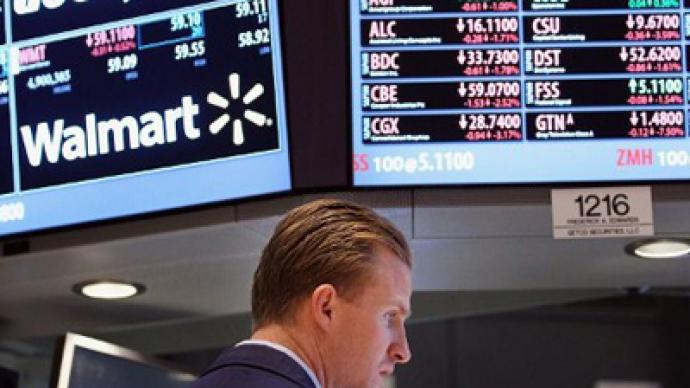 International news will continue to exert a major impact on Russian stocks. Falling oil prices and uncertainty around Greece are expected to keep the markets in the red.
Russian markets finished significantly down on Wednesday with the MICEX falling 0.72% to 1, 335,10 and the RTS going down 1.93% to 1,373.77.
That was mostly due to an investor reaction to the news over Greece, where coalition talks to form a government fell apart. The new elections were called for June 17 and president Karolos Papoulias said depositors were pulling 700 million euros ($891 million) out of banks, weakening the country's strained financial system
The price of oil continues to decline on the expectation that world markets will be flush with extra supplies this year, while demand could fade away. Major oil producers like Saudi Arabia delivered more supplies to the world market. This was coupled by a report from the US saying crude supplies there had climbed to the highest level in 22 years, going up 2.1 million barrels last week, according to the Energy Information Administration. That's a bigger increase than analysts expected, and more could be on the way.
Meanwhile, teetering recession in Europe poses strong threat of a sharp fall of a global demand.
Benchmark U.S. crude on Wednesday fell by $1.17 to finish at a seven-month low of $92.81 per barrel in New York. Oil is down nearly 13 percent since the beginning of May.
In the US, worries over Greece offsert positive news on the American economy. Construction of homes in April rose 2.6% from March, and U.S. industrial production increased 0.6% in April, helped by a gain in auto production. Despite this, U.S. stock markets fell, with The Dow closing down 0.3% to 12,598.55. The Standard & Poor's 500 index also declined 0.4% to 1,324.80 and the Nasdaq composite index lost 0.7% to 2,874.04.
In Europe, the FTSE 100 index of leading British shares was off 0.6% at 5,405 while Germany's DAX closed 0.26% down to 6,384. The CAC-40 in France outperformed its peers, trading 0.31% higher at 3,048.
Asian stocks were mixed Thursday, also affected by developments from Greece pointing to its possible exit from the Euro. Japan's Nikkei 225 slipped 0.2% to 8,780.66, while Hong Kong's Hang Seng rose 0.3% to 19,322.07. Benchmarks in South Korea, Singapore and Taiwan also rose while Australia's fell.