Rock bottom: Russian economy hits low, will pick up in July
Published time: 22 Jul, 2013 10:18
Edited time: 22 Jul, 2013 10:58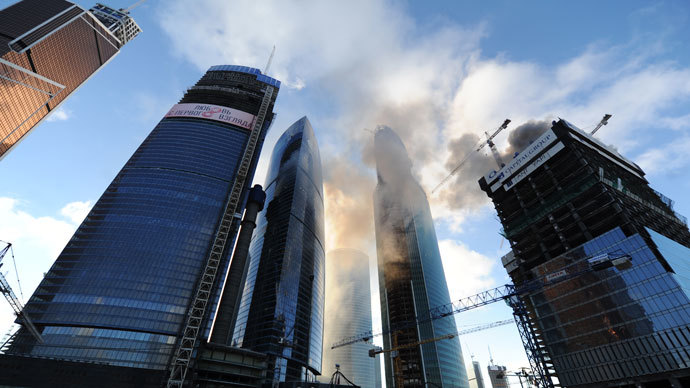 Russia is nearing the end of stagnation, and the Ministry of Economic Development anticipates the economy will expand more rapidly in the next two quarters, fueled by investment.
In the second quarter, Russia's economy grew by 1.9 percent, an improvement from the 1.6 percent growth it posted in the first quarter, but still well below the best case scenario of 3 percent growth. In 2012 the economy grew 4.7 percent.
The growth figures are from RosStat, Russia's federal service of state statistics. Though higher than forecast, Russia's economic performance in Q1 was the worst quarter since 2009.
The Ministry of Economic Development expects the economy to jump start in July, propelled by rising exports and a boost in investment in the second half of the year.
Trade promises strong growth. In June exports rose 0.4 percent to $41.6 billion, and imports rose by 5.7 percent to $27.9 billion, according to the Ministry of Economic Development.

Russian academics say the country has entered a technical recession, as its basic industries contracted for 6 months in a row.

Investment is the bigger challenge and a highly sensitive ingredient to Russia's growth. In Q1 investment fell 30 percent, and the pessimistic trend is slated to roll over into July. High inflation has weakened the ruble's exchange rate, which the government plans to loosen.
In June, the World Bank cut its growth forecast for Russia to less than 2.2 percent in 2013 and 3 percent in 2014, after revising the January forecast the economy would grow by 3.6 percent in and 3.9 percent in 2014.
Bloomberg has projected growth of 2.5 percent.
"We are taking a conservative path, and in some cases even lower," Deputy Economic Development Minister Andrey Klepac said, as GDP in June only grew by 1.5 percent.
According to Klepac, almost a third of investment is accrued in November and December, which will contribute to reviving Russia's sluggish economy.
Russia's economy has been hit by weaker investment and exports, but is expected to pick up later in the year thanks to stronger budget spending. The government expects growth to slow to 2.4 percent this year, from 3.4 percent in 2012.
Renaissance Capital, a leading investment bank in Russia, doesn't foresee the economy growing faster than 2 percent in the coming year.
"We anticipate that there will be a turning point in negative trends in the second quarter and that economic growth will surpass 3% in the second half of the year," Andery Belousov, head of the Ministry of Economic Development, said in June.
Bank sell-off
Recent signs of slowdown have prompted government officials to prepare Russia for recession by inflating the real economy.
The new Central Bank chief Elvira Nabiullina hasn't budged on changing interest rates, but, under pressure from the Kremlin to increase the credit line to the economy, will hold its first auction for secured against non-market assets and guarantees on July 29.
The monetary easing policy will offer a floating interest rate set at 5.75 per one-year loan. With $15.3 billion (500 billion rubles) on offer. 
The new 'anti-crisis tool' has been praised by economists. Rosbank's Vladimir Kolychev lauded Nabiullina for 'rolling out the big bazooka'.
The sell-off will hopefully provide more long-term funding for banks, as well as make the ruble more liquid.
Moody's rating service downgraded the long-term senior debt and deposit ratings of Russia's key state lender Sberbank (to Baa1 from A3), Bank VTB and VTB24 (to Baa2 from Baa1) and Russian Agricultural Bank (to Baa3 from Baa1). The outlook for these ratings is stable.
"Recession is not expected. I think that the growth in the second half [of this year] will be higher than in the first [half]," the country's economy minister and former central bank deputy chairman, Alexey Ulyukayev, told Prime news agency Tuesday.