Russia has recession 'safety blanket' - Putin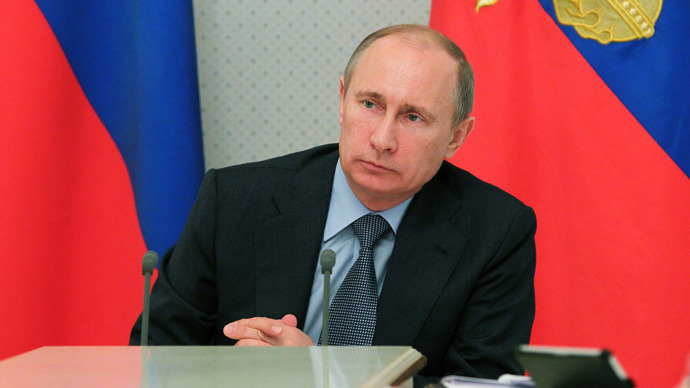 There are hints of a global economic downturn, but the Russian Federation has a 'safety blanket', Putin told government officials in Sochi.
President Putin has challenged government officials to come up with new measures to protect Russia from global economic troubles. 
"I expect specific proposals for measures that would help us ensure stable economic growth, protect ourselves from negative fluctuations in the world economy, reduce risks of production decline in key industries, and stimulate business activity," Putin said at a conference. 
"The production decline and crisis developments in the world financial system may affect, and are actually affecting, our own economy as well as we can see, and we must be ready for this," he said.
 Putin addressed Russia's slowed growth projection of 3.4%. 
"[Growth] began to slow, primarily because foreign demand was getting worse," Putin said. 
Capital outflow and lower investment activity also contributed to the lower forecast from the IMF. 
"We must be prepared for the fact that the recession and the crisis in the global financial system may affect, and are reflected in our economy".
Russia's contracting economy is part of a larger, worldwide paradigm. China's import demand threw a curve ball for all of its suppliers, and weak energy demand in the US and Europe have hampered oil exports. 
The loss of foreign investment has particularly crippled the Russian economy, but venture capital investment has more than doubled year-on-year to $910.6 million in 2012, Vedomosti reported, citing research by Russian Venture Company (RVC) and PricewaterhouseCoopers (PwC). There were 201 venture capital deals in Russia last year, up from 2011. According to PwC, 160 funds invested in Russian startups last year. 
 "I do not want to dramatize the situation unnecessarily. The Russian economy has a sufficient safety net. Many analysts believe growth in the second-quarter is expected to recover," Putin said.
However Russia has a very realistic chance to stand above the line, should the global economy shrink into deep recession, Ben Aris, the editor-in-chief of Business New Europe told RT Business.
"The global slowdown is affecting everyone and Russia included, but Russia is in one of the better positions than many of the countries in the world. It has resources, consumer demand and spending and has domestic industry you can build on, investment that can drive the economy forward. What they need to do is to come up with a concrete and effective plan in order to pick the economy up."