Panasonic downgraded by S&P due to $10 bn losses; plans restructuring
Published time: 2 Nov, 2012 08:48
Edited time: 2 Nov, 2012 12:48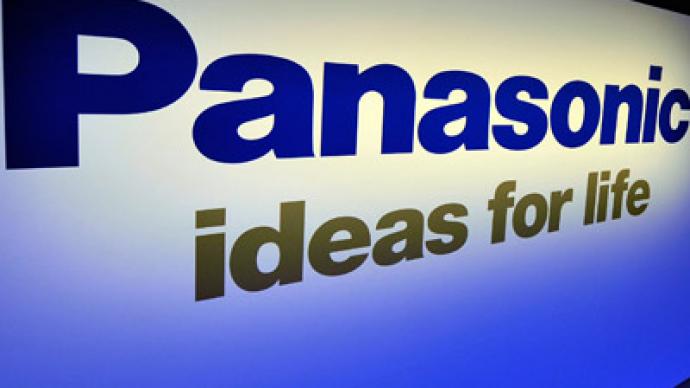 Panasonic Corp., Japan's second largest TV maker, saw its credit rating cut by two levels by Standard & Poor's after it forecast a $9.5 bn loss 30 times bigger than analyst estimates.
­S&P said it has downgraded long-term debt to BBB, down from A-, as "huge losses for the second year in a row weaken the company's financial profile and could further slow its recovery in the next one to two years". However, the agency affirmed Panasonic's stable outlook, as it believes the company will recover over the next two years thanks to "recent restructuring efforts and its diverse business portfolio".
Panasonic estimates a net loss of about 765 billion yen ($10.7 billion) for two consecutive years in fiscal 2012 due to a drop in sales and high restructuring costs. The TV producer also cut its annual operating profit target to 140 bn yen ($1.74 bn) from 260 bn yen ($3.2 bn). It had also cut its forecast for annual TV sales to 13 million sets from 15.5 million.
The company is going to reveal a tough restructuring plan by next March that is expected to drive its business away from poor selling TVs and other consumer electronics. Its sales of TVs dropped 30% this year, sales of Blu-ray players declined about 60%.
"It's unfortunate, but we are among the losers in consumer electronics," Kazuhiro Tsuga, Panasonic's president, told a news conference. Panasonic's rivals Sharp Corp and Sony Corp have also reported heavy losses in TVs and other consumer electronics goods.
Panasonic also plans to reorganize its existing nine groups of business divisions into four groups responsible for audiovisual-related products, major home appliances, environment-related business and vehicle products.
This month Panasonic secured $7.6 billion in loan commitments from Sumitomo Mitsui Financial Group, Mitsubishi UFJ Financial Group and other banks to finance its restructuring plan, which could cost up to $5.4 bn this year.
Panasonic is already scaling back non-profitable businesses such as the mobile phone unit, solar panel production and output of small lithium batteries, which are used in PCs and smartphones. "We believe we have removed everything that posed a writedown risk," Panasonic's CFO Hideaki Kawai said.
Last year the company boosted output capacity of solar panels by half, to 900 megawatts, and launched a new plant in Malaysia. But global economic slowdown dented demand, especially in Europe, forcing Panasonic out of the solar business. Tsuga also said Panasonic would halt sales of smartphones in Europe
The electronics maker cut 36,000 jobs last year, though it remains Japan's largest corporate employer with 330,000 workers.