'You better get back in there soon': Trump vows to get tough with General Motors over plant closures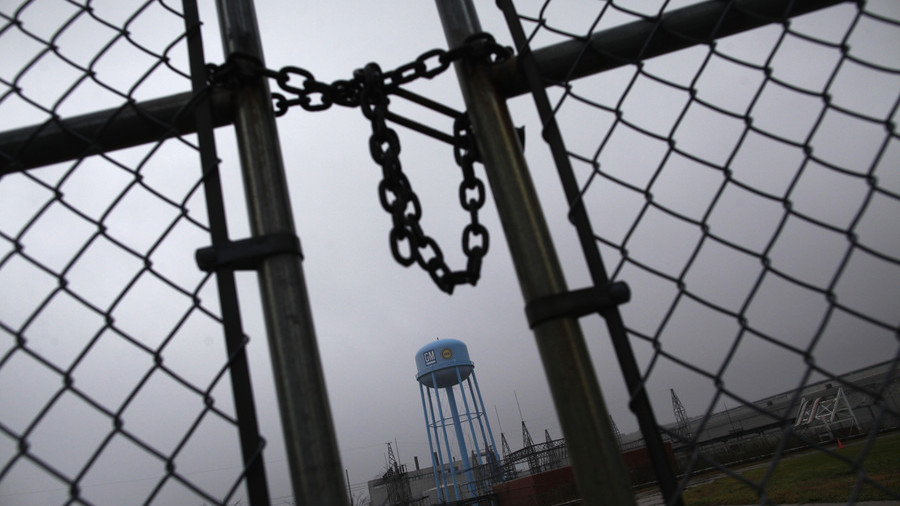 US President Donald Trump says he is "not happy" with General Motors (GM) after the automaker decided to close plants in Detroit and Ohio. Trump added he is putting "a lot of pressure" on the company to reverse course.
The president's remarks follow GM's announcement on Monday about closing assembly plants in Detroit-Hamtramck and Lordstown, Ohio, along with transmission plants in Warren and the Baltimore area.
"We don't like it," Trump said, adding "I believe they'll be opening up something else." The president said that he was "very tough" with GM CEO Mary Barra when speaking with her after the announcement. "I said, 'You know, this country has done a lot for General Motors. You better get back in there soon. That's Ohio, and you better get back in there soon.'"
Also on rt.com
Trump tells biggest US automakers to bring production back to America
Trump also said that the tariffs, which GM warned would "undermine [its] competitiveness against foreign auto producers..," have "nothing to do" with the layoffs.
GM is set to idle five factories in the US and Canada and eliminate about 14,000 jobs, more than ten percent of its North American workforce.
The US automaker explained its decision as a response to a slowdown in new-car sales, as well as to consumers shifting toward pickup trucks and sport-utility vehicles.
READ MORE: 'Anti-American' tag by Trump a new nightmare for US businesses
Ohio Senator Sherrod Brown called the decision "corporate greed at its worst." He said it was "clear" that GM "doesn't respect" the Lordstown workers, and slammed the car company for not doing enough to reinvest the savings from its tax cuts.
Also on rt.com
'Make in USA or pay big border tax': Trump blasts GM over cars made in Mexico
One of the plants where GM plans to slash production and lay off workers is in the area where Trump has promised to boost employment. In July 2017, speaking at a rally about 20 miles away in Youngstown (Ohio), Trump said he saw too many empty factories in the area and pledged to revive manufacturing there.
"I said, those jobs have left Ohio. They're all coming back. They're all coming back. Don't move, don't sell your house," he said.
US Senator Bernie Sanders slammed both GM and President Trump in his Facebook post on Tuesday. Sanders called the automaker's $514 million in tax breaks the result of the president's tax giveaway to the wealthy, and the decision to close factories "outrageous." The senator added that "the corporate greed of GM is destroying the social fabric of America."
For more stories on economy & finance visit RT's business section
You can share this story on social media: