'Make in USA or pay big border tax': Trump blasts GM over cars made in Mexico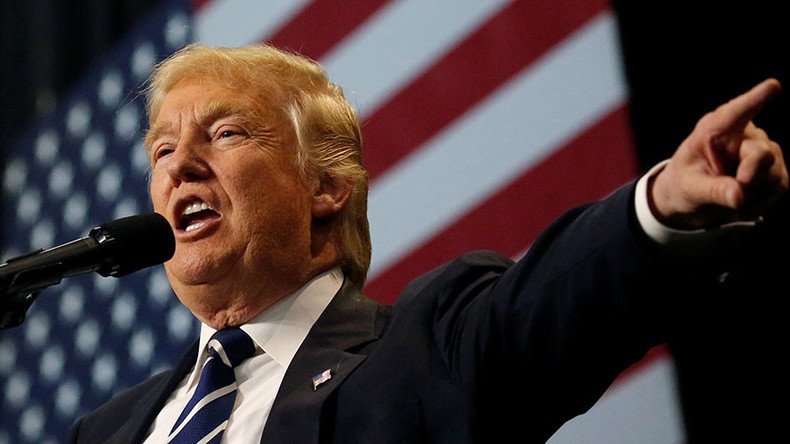 President-elect Donald Trump blasted General Motors Company for building some of its cars in Mexico, and said the largest US automaker should build the car at home or face a hefty tariff.
"General Motors is sending Mexican made model of Chevy Cruze to US car dealers – tax free across border," Trump tweeted Tuesday. "Make in USA or pay big border tax!"
Every Chevrolet Cruze sedan is built in Ohio and most of GM's Mexican-made hatchbacks are "exported to global markets," GM spokesman Tony Cervone told Bloomberg.
Cervone declined to comment on whether the company planned to talk to Trump, although GM CEO Mary Barra is among the panel of business leaders giving the president-elect strategic advice on the economy after he takes office.
The Detroit-based company had announced it planned to lay off 2,000 employees at two US auto plants, including one in Lordstown, Ohio, where it builds the compact Chevrolet Cruze, due to weak demand for small cars.
Ohio Democrats weighed in on the Trump tweet over the Cruze sedan.
A trend among Detroit's automakers is to have smaller cars manufactured in Mexico to take advantage of lower labor costs and have higher-paid American workers build more profitable trucks, sport utility vehicles and luxury cars.
General Motors was one of the US corporations helped by government bailouts during the Obama administration following the financial crisis in 2008. The company was able to reorganize after filing for bankruptcy in 2009, with the US Treasury investing $49.5 billion in the company through the Troubled Asset Relief Program (TARP). GM has reported annual profits since 2010, and the Treasury recovered $39 billion when the company sold shares in December 2013.
Trump's tweet is the latest example of the president-elect intervening with US companies against moving jobs across the border. After striking a deal with Carrier to keep a plant in Indiana, Trump has taken aim at Boeing Co., Lockheed Martin Corp. and United Technologies.
During the presidential campaign, Trump criticized Ford Motor Company for moving production of some car brands to Mexico.
In November, Trump tweeted that he talked to Chairman Bill Ford and got the automaker to commit to keeping production of the Lincoln MKC sport utility vehicle in century instead of Mexico, and indicated he saved the plant.
As it turned out, the plant makes Ford Escape SUVs and was not scheduled to close.
On Tuesday, Ford announced it was canceling plans to build a new manufacturing plant in Mexico and would be investing $700 million in Michigan instead.
The move is a "vote of confidence" in Trump's pledge to create a pro-business environment, Ford CEO Mark Fields told CNN, but added that it wasn't the result of a special deal with the president-elect.
"We didn't cut a deal with Trump," said Fields. "We did it for our business."
The deal won't affect US jobs because the automaker will be putting new vehicles in the Michigan plants as part of a $700 million investment for more electric and self-driving cars. The automaker said it plans to build a self-driving car by 2021.
Michigan Governor Rick Snyder thanked Ford "for your continued confidence in our state."
You can share this story on social media: