Trump slaps China with $50 billion in trade tariffs on imports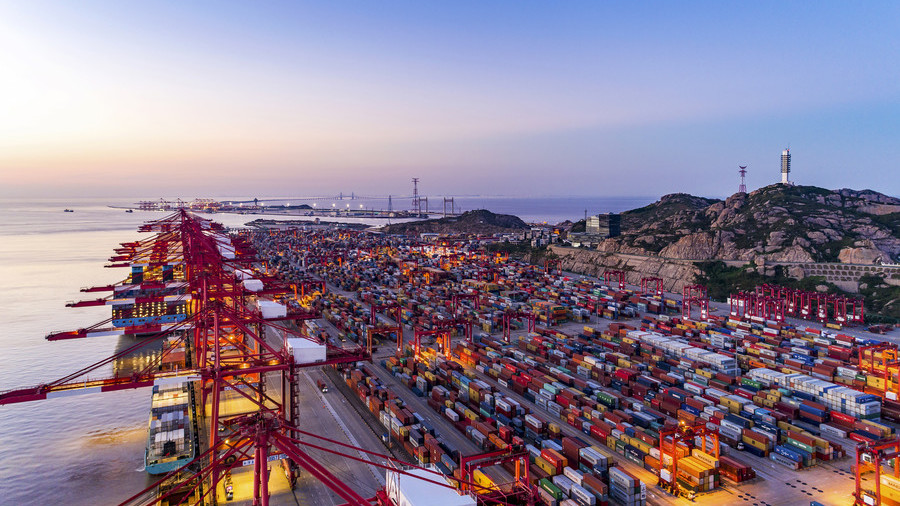 The White House has announced a 25-percent tariff on $50 billion worth of Chinese goods in what it calls a clampdown on unfair trade practices by Beijing.
The US trade representative's office said it issued a revised China tariff list covering 1,102 separate product categories. The first package of revised tariffs will apply to $34 billion of Chinese imports, on 818 product lines, and will enter into effect from July 6. The second package will target the remaining $16 billion of Chinese goods, on 284 product lines.
Since his presidential election campaign, US President Donald Trump has pledged to cut the trade deficit between the US and China and to curb Beijing's allegedly unfair trade practices. Trump has also accused China of stealing US technology and intellectual property.
"In light of China's theft of intellectual property and technology and its other unfair trade practices, the US will implement a 25 percent tariff on $50 billion of goods from China that contain industrially significant technologies," according to the White House statement.
"This includes goods related to China's Made in China 2025 strategic plan to dominate the emerging high-technology industries that will drive future economic growth for China, but hurt economic growth for the United States and many other countries."
The step is expected to escalate trade tensions between the world's two biggest economies. Earlier, Chinese officials warned of mirror measures, pledging to introduce import tariffs on US goods such as automobiles, aircraft, and soybeans.
China's Ministry of Commerce has accused the US of launching a trade war and said Beijing will immediately introduce tariffs on American exports on a similar scale.
"In today's era, launching a trade war is not in the global interest," the ministry's statement reads. "We call on all countries to take joint action, resolutely put an end to this outdated and regressive behavior, and firmly defend the common interests of mankind."
China previously said it would swiftly impose retaliatory levies on American imports worth $50 billion. Shortly after Beijing's warning, the White House threatened tariffs on a further $100 billion of Chinese exports.
Since becoming president, Trump has unleashed numerous trade battles, including with countries considered traditional US allies. Earlier this month, Washington introduced 25-percent tariffs on steel imports and 10-percent levies on aluminum imports from the EU, Canada, and Mexico.
In March, the Trump administration imposed tariffs on imports of steel and aluminum from Russia, China, and India. The affected nations have appealed to the World Trade Organization (WTO), demanding compensation over what they call a "protectionist measure."
For more stories on economy & finance visit RT's business section
You can share this story on social media: