Eurozone suspends Greek debt relief over Christmas bonus for pensioners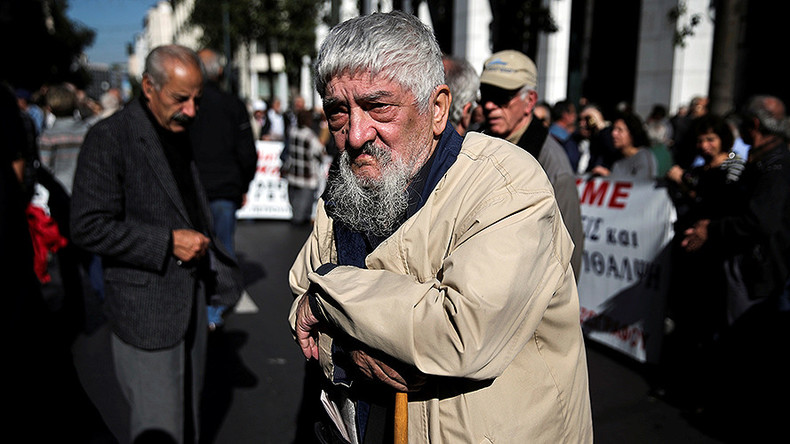 Greece's European creditors have halted the country's debt relief deal after Athens proposed a one-off payout to pensioners which contradicts Brussels' austerity demands.
The sides are struggling to agree on the latest review of Greece's rescue plan of €86 billion. Last week they agreed on a short-term debt relief deal under which Athens must reduce its public debt by 20 percent of GDP by 2060.
Three days later Greek Prime Minister Alexis Tsipras promised 1.6 million pensioners a Christmas bonus of between €300 and €800. He said the government would spend €617 million in one-off benefits for low-income pensioners ahead of Christmas because Greece had exceeded its 2016 primary surplus target.
The PM also suspended a planned increase in sales tax for the eastern Aegean islands which had received scores of refugees from the Middle East and elsewhere.
"The institutions have concluded that the actions of the Greek government appear to not be in line with our agreements," said Eurogroup spokesman Jeroen Dijsselbloem, adding "no unanimity now for implementing short-term debt measures."
Athens will hold a parliamentary vote on the pension payments on Thursday to rally domestic support.
"When we exceed targets and revenue by sticking to the program, we will not seek anyone's permission to give this money to those who need it most," Tsipras said.
He added the country's creditors "should respect the Greek people who had made enormous sacrifices in the name of Europe."
"We have carried the weight of the refugee crisis. In the name of Europe we have, in recent years, implemented an extremely harsh policy of austerity," said the prime minister.
READ MORE: Athens passes new austerity measures to get rescue loans from EU
The Greek people and particularly pensioners have vehemently opposed the unpopular austerity measures introduced by the government under the terms of the 2015 deal with creditors.
The reforms include tax hikes, pension cuts, as well as the privatization of public assets. Greece is also obliged to bring in a primary budget surplus to 3.5 percent of GDP by 2018.
You can share this story on social media: