Athens passes new austerity measures to get rescue loans from EU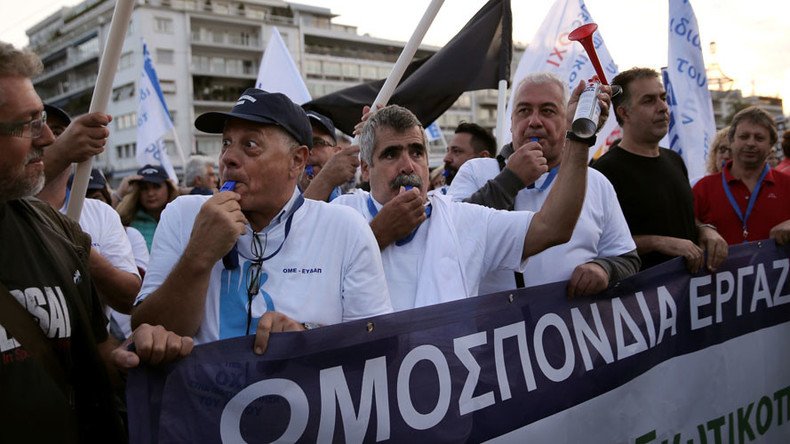 The Greek parliament has passed the law to cut pension spending and transfer control of public utilities to a new asset fund. The reforms sought by the country's creditors may help unlock €2.8 billion from Greece's €86 billion bailout program.
Public assets transferred include airports and motorways, as well as water and electricity utilities.
The new measures sparked demonstrations and public sector strikes across the country. Workers at Greece's public water utility companies in Athens and Thessaloniki rushed to the streets in protest. "They are handing over the nation's wealth and sovereignty," said the head of the water company workers association George Sinioris as cited by Deutsche Welle.
Greece's public sector union (ADEDY) also criticized the transfer of assets into the fund, saying it opens the way for a fire sale of strategic state-controlled companies to private investors.
"Health, education, electricity and water are not commodities. They belong to the people," the union said in a statement.
Energy Minister Panos Skourletis said that transferring assets to the fund did not mean the state forfeits its property. "The Greek state remains the sole stakeholder of these assets," he said. "Apart from privatization, there are other ways to gain value and we are concentrating on these other ways."
The European Union warned this month it won't release a new bailout tranche to Greece in September because Athens has managed to implement only two out of 15 reforms previously agreed with its international creditors.
The EU also said the country has slowed down the privatization process of its public assets.
Prime Minister Alexis Tsipras has called on the EU to recognize the Greek debt crisis as a "European problem." He said the dispute between Greece and its international lenders on the country's debt management was damaging the recovery.
Under the terms of the 2015 deal, the creditors including the International Monetary Fund, the European Central Bank and the eurozone are to provide €86 billion in aid to Greece by 2018 in return for unpopular austerity measures.
The eurozone authorities have already approved a tranche of €10.3 billion from the overall package with an initial €7.5 billion transferred to Athens in June.
You can share this story on social media: