Greece blames creditors over economy's inability to recover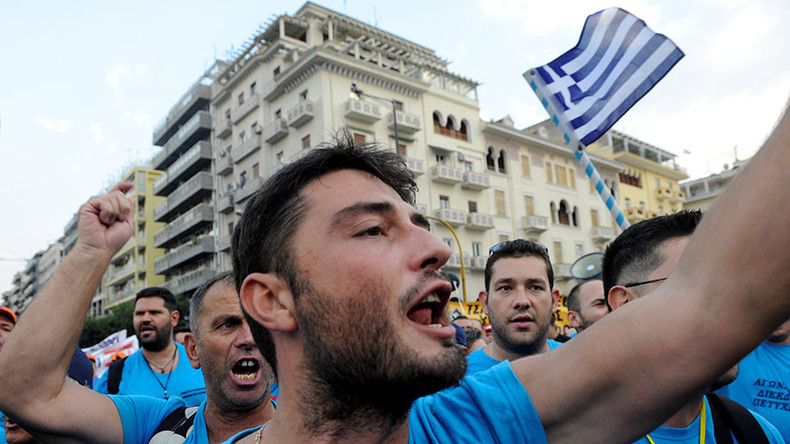 The dispute between Greece and its international lenders on the country's debt management is damaging the recovery, according to Prime Minister Alexis Tsipras. He is calling on the EU to recognize the Greek debt crisis as a "European problem."
"We are closer than ever before to a solution of this crisis. What is delaying the effort of regaining the trust of the markets is the constant disagreement between the European institutions and the IMF," Tsipras said during a news conference at the Thessaloniki International Fair.
Greece's lenders have "failed miserably" in their policies aimed at rescuing the Greek economy, Syriza party economist Marica Frangakis told CNBC.
Tsipras' and Frangakis' comments follow the eurozone finance ministers' meeting on Friday. The Eurogroup want Greece to act faster on its economic reforms in order to get rescue loans from the EU. The demands on new austerity measures have sparked anger with 14,000 people demonstrating on the streets of Greece's second-largest city Thessaloniki.
Greece has to fulfill fifteen reforms by the September 15 deadline to get a €2.8 billion tranche from the bailout program.
Under the terms of the 2015 deal, the creditors including the International Monetary Fund (IMF), the European Central Bank and the eurozone are to provide €86 billion in aid to Greece by 2018 in return for unpopular austerity measures.
The reforms include tax hikes, pension cuts, as well as the privatization of public assets. Greece is also obliged to bring in a primary budget surplus to 3.5 percent of GDP by 2018.
So far, the country has managed to implement only two reforms out of fifteen.
The IMF said that it would not participate in Greece's third bailout until the issue of debt sustainability is sorted. It also disagrees with the EU creditors on how much Athens can improve its finances through ongoing reforms.
Greece's current debt is the highest in the eurozone, exceeding 170 percent of national output.
You can share this story on social media: