Big Pharma spent $880mn on keeping opioids available – report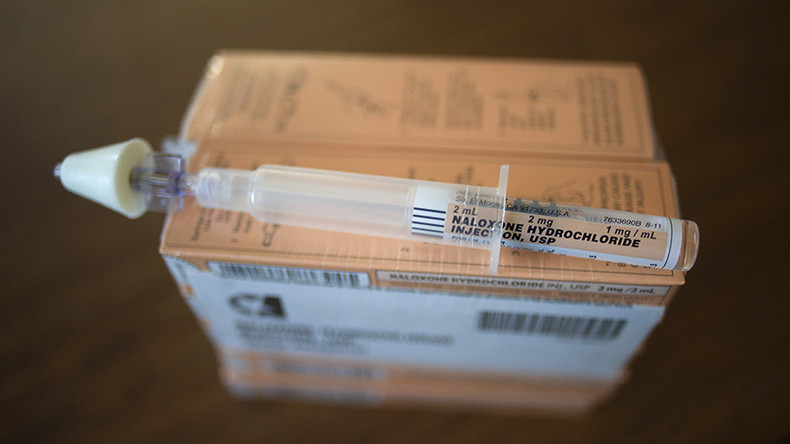 In the midst of one of the worst drug epidemics in the US, a report found that the money spent on keeping painkillers regularly prescribed has overshadowed even anti-gun lobbying efforts and may be behind the opioid epidemic ravaging the nation.
The opioid crisis has reached a point where police officers carry Narcan when responding to calls due to the risk of accidental fentanyl exposure. But it may not have had to be like this, as multiple bills that would have limited opioid prescriptions were put in front of state governments.
However, very few of those bills passed, due to aggressive lobbying efforts from the drugmakers that rivaled in size those of anti-gun control groups. In fact, pharmaceutical companies spent more money lobbying against opioid restrictions than tobacco groups in 1998 when they were facing litigation from 40 states.
"The opioid lobby has been doing everything it can to preserve the status quo of aggressive prescribing," Dr. Andrew Kolodny, an opioid reform advocate, told the Associated Press. "They are reaping enormous profits from aggressive prescribing."
The opioid industry and its allied groups, such as the American Cancer Society Cancer Action Network (ACSCAN), spent $880 million on lobbying across the country and contributing to political campaigns. An average 1,350 lobbyists were employed by the drugmakers and their groups to maintain a presence in state capitals and be prepared to act quickly when faced with opposing political activity, according to the report.
In 2012, lawmakers received reports on a "crisis of epidemic proportions" that was wreaking havoc on 40 percent of Americans: chronic pain. Some researchers doubt the validity of the study that claims over 100 million Americans suffer from the condition. The study made no mention of the rising numbers of overdoses from OxyContin, Vicodin and Percocet that had quadrupled from 1999 until 2012.
That same year, Senator Bernadette Sanchez (D-New Mexico) sponsored a bill that would have limited initial opioid prescriptions for acute pain to seven-day doses. The purpose of this measure was to make addiction less likely and provide fewer pills that could be resold on the black market.
The measure did not make it past the House Judiciary Committee.
"The lobbyists behind the scenes were killing it," Sanchez told the AP.
The report found that in 2012, drug companies and their affiliates contributed about $40,000 to various New Mexico campaigns.
In 2014, New Mexico would be home to the second highest death rate from drug overdoses.
"Here in New Mexico we are facing an epidemic," US Attorney Damon Martinez told the New York Times.
New Mexico is home to the second highest American Indian population in the US and the Native population has been hit particularly hard by opioid addiction. American Indian students had rates of using heroin and OxyContin two to three times higher than the national averages from 2009 to 2012, the New York Times reported.
In 2007, OxyContin manufacturer Purdue paid $600 million in fines after pleading guilty to "misbranding" the drug, which misled doctors, patients and regulators about OxyContin's high rates of addiction and risk of abuse.
In 2014, the pain study that senators received gained more attention. The Food and Drug Administration (FDA) cited it as a reason to keep painkillers accessible, but Michael Von Korff, a contributing researcher to the study, did not believe that the conclusion lawmakers and pharmaceutical companies were drawing from his work was correct.
Korff told the AP that the study represented "people with run-of-the-mill pain problems who are already managing them pretty well." Korff is also a member of the Physicians for Responsible Opioid Prescribing, but found the figure of 100 million people with pain to be the centerpiece for lobbying efforts that cost the Pain Care Forum nearly $19 million.
An investigation found that nine out of 19 experts involved in the report had served as leaders in various groups that received funding from the painkiller industry, according to the Milwaukee Journal Sentinel.
In July, a bill meant to tackle the drug addiction epidemic was stripped of its $920 million funding by Republican senators. Meanwhile, the report found that opioid sales topped $9.6 billion last year – more than 10 times what the US government would have allocated to expand treatment options. In the last decade alone, Purdue has generated over $22 billion from opioid sales.
Pharmaceutical companies are not solely trying to crush any potential limitation on their products. They've been long pushing bills that are meant to combat the opioid abuse. But those bills also involve a new cash cow for the drugmakers: patent-protected abuse-deterrent opioids with extended release.
Some experts are hesitant to believe that abuse-deterrent opioids will be the remedy for the opioid crisis, however.
"The FDA shouldn't be allowing these drugs to be labeled as 'abuse-deterrent' because they don't really deter abuse–they deter misuse by specific routes," Andrew Kolodny, the executive director of Physicians for Responsible Opioid Prescribing and senior scientist at Brandeis University's Heller School for Social Policy and Management, told Forbes.
"If a pill has been made difficult to crush, it should be labeled 'crush resistant," or "One of the main problems with calling them 'abuse deterrent' is that the terms 'abuse' and 'addiction' are often used interchangeably."
In simple terms, making these drugs more difficult to abuse does not mean they aren't addictive. According to Kolodny, they are "every bit as addictive and patients can become addicted taking pills exactly as prescribed."
"If doctors make the mistake of thinking ADF opioids are less addictive, they may continue to over prescribe," he added.
The other issue with the abuse-deterrent pills is that they are no deterrent of profits for pharmaceutical companies. Pennsylvania's state senate will hear a bill that requires health insurance plans to cover abuse-deterrent painkillers with a patented formulation and cost three to five times more than standard painkillers, according to New Castle News.
The bill was lobbied by Purdue Pharma and written from recommendations of an opioid task force that met in private, held no public hearings and included pharmaceutical industry representatives. Its wording is nearly identical to at least 21 other bills in the country.
The FDA has held back on making bold stances on the opioid epidemic. Some limitations have been placed on prescribers, such as adding new warnings to immediate-release opioids but the federal agency has refused to require training doctors in writing safer prescriptions.
In fact, the first federal guidelines on reducing opioid prescriptions came from the Centers for Disease Control and Prevention. The recommendations advise that chronic pain sufferers look into non-opioid pain relievers and work with physical therapy. The resistance to these suggestions included threats of congressional investigation and legal action.
You can share this story on social media: