Addictive painkiller profiteer donates $500k to fight cannabis legalization in Arizona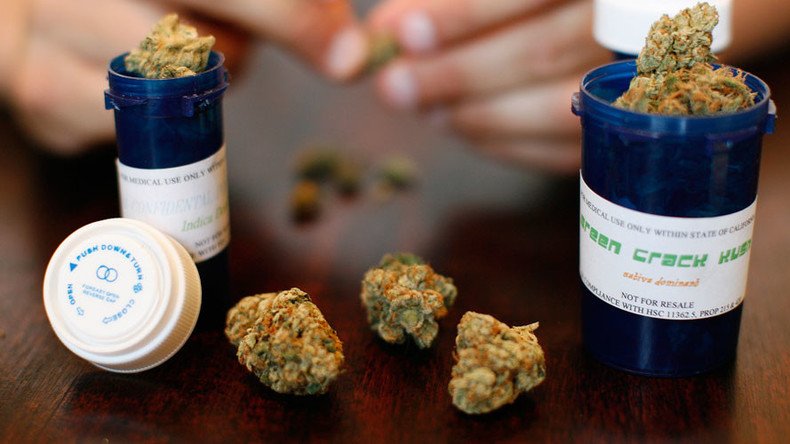 Insys Therapeutics, which profits off of a painkiller 50 times more potent than heroin, has donated $500,000 to a campaign opposing marijuana legalization in the US state of Arizona.
The maker of the drug Subsys, a sublingual fentanyl spray, said that children are their main concern for fighting Proposition 205, which appears on the ballot this November.
"They want to be able to push their far more addictive, far more harmful and far more dangerous opioid drugs," JP Holyoak, chair of the committee pushing Prop 205, told the Arizona Capitol Times.
Supporters of cannabis legalization say legal access to their natural non-addictive painkiller could eliminate the need for drugs like fentanyl, which contributes to America's growing epidemic of opioid dependency that claims more lives each year than gunshot wounds or car crashes.
READ MORE: Opioid abuse, America's deadliest epidemic, loses funding to Zika fight
Prince died from an overdose of fentanyl and one third of Ohio's 3,050 deaths caused by lethal drug consumption last year were linked to the drug, according to the Columbus Dispatch.
A 2014 study by John Hopkins University found that states which legalized medical marijuana had 25 percent less overdose deaths from prescription drugs than those where it remained illegal.
Insys said in a statement that its opposition to the legalization of cannabis was "because it fails to protect the safety of Arizona's citizens, and particularly its children."
It did not address whether the outcome could have financial benefits for the company, although all of its profits come from the sale of its only product - the fentanyl-containing spray, according to its August filing.
READ MORE: Rate of small children exposed to marijuana up 147.5% – study

Last month, Illinois Attorney General, Lisa Madigan, brought a lawsuit against Insys over claims they had deceptively marketed and sold their medication to doctors for uses other than cancer treatment, which the FDA has approved its sole use for.
READ MORE: Pharma company Insys marketed opioid drug at high-volume prescribers – lawsuit
Madigan said the company's "desire for increased profits led it to disregard patients' health and push addictive opioids for non-FDA approved purposes."
Insys became the largest contributor to the anti-legalization campaign after donating to Arizonans for Responsible Drug Policy, a group opposing the initiative to regulate marijuana in the state under Prop 205.
Their donation was over 400 percent higher than the next largest donor, the Arizona Chamber of Commerce and Industry, with $110,000.
Pro-legalization campaigners have called for the donation to be returned as it has now tainted the campaign against Prop 205.
"We hope that every Arizonan understands that Arizonans for Responsible Drug Policy is now a complete misnomer. Their entire campaign is tainted by this money. Any time an ad airs against Proposition 205, the voters should know that it was paid for by highly suspect Big Pharma actors," Holyoak said.
When questioned by the Arizona Capitol Times about donations made to the Marijuana Policy Project in support of Prop 205, Holyoak did not dispute that several out-of-state interest donors "stand to make millions if Prop 205 passes."
Coincidentally, the recently-passed Bill 205 in Canada banned the sale of pill presses for making fentanyl.
Bill to fight fentanyl production passes second reading: Bill 205, the Pharmacy and Drug (Pharmaceutical Equipment… https://t.co/FZ3d1vADRa

— Edmonton Daily News (@edmontondaily) May 10, 2016
You can share this story on social media: