Pharma company Insys marketed opioid drug at high-volume prescribers – lawsuit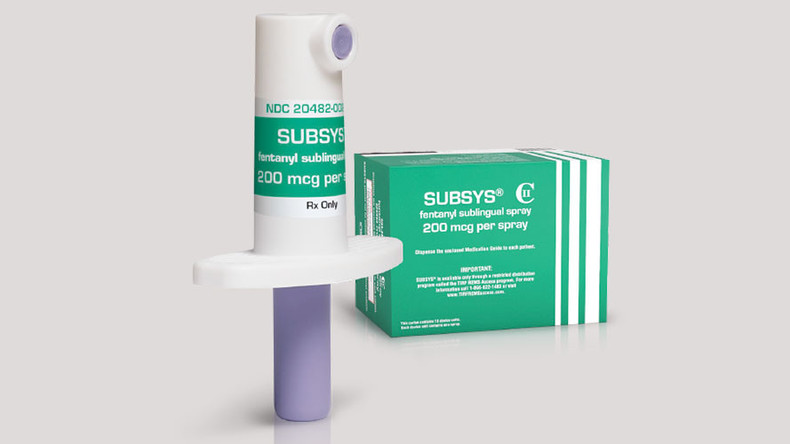 In a lawsuit filed by the state of Illinois, Insys Therapeutics Inc. has been accused of deceptive marketing practices involving a cancer drug and using "sham" speaking events to target doctors known to frequently prescribe opioid drugs.
The lawsuit filed late last week by Illinois Attorney General Lisa Madigan alleges that Insys did not market its drug Subsys, designed and approved to manage cancer pain, to oncologists but rather to doctors with a reputation for high-volume approval of opioid prescriptions. Subsys is a spray that contains the synthetic opioid fentanyl; the drug generated nearly $330 million in 2015.
"This drug company's desire for increased profits led it to disregard patients' health and push addictive opioids for non-FDA approved purposes," Madigan said in a statement. "It's this type of reprehensible and illegal conduct that feeds the dangerous opioid epidemic and is another low for the pharmaceutical industry."
The lawsuit alleged that Insys would reward doctors for prescribing the drug for off-label uses via payments for "sham speaking events" that "functioned more as social gatherings," and that doctors in attendance could order as much high-dollar food and drink as they wanted.
The lawsuit calls for financial penalties against Insys and a ban on the Arizona-based company's ability to sell products in the state. Insys is involved in several state investigations over its marketing of Subsys to doctors with disciplinary and criminal histories, according to reports.
Insys did not respond to media inquiries for comment.
Madigan said Insys marketed Subsys for off-label uses like chronic migraines, back, and neck pain. Rather than marketing the drug to cancer-treating oncologists, "Insys instead directed its promotion and marketing in Illinois to high-volume opioid prescribers who are not oncologists or pain specialists who treat cancer," according to the lawsuit. The company pushed doctors to prescribe higher and more expensive doses of the drug, the suit says.
Dr. Paul Madison, an anesthesiologist, was responsible for 58 percent of Subsys prescriptions in the state despite treating "few, if any, cancer patients," the lawsuit says. Madison was indicted in 2012 on federal charges related to false billing claims.
The company was aware of Madison's indictment and prescribing practices, the lawsuit says.
From 2013 to 2015, Insys paid Madison more than $87,000 for speaking, travel, and food, according to ProPublica.
Earlier this month, two former Insys employees pleaded not guilty to charges that they were involved in a plan to offer kickbacks to doctors that agreed to prescribe Subsys.