Senate passes long-awaited opioid bill, but GOP strips funding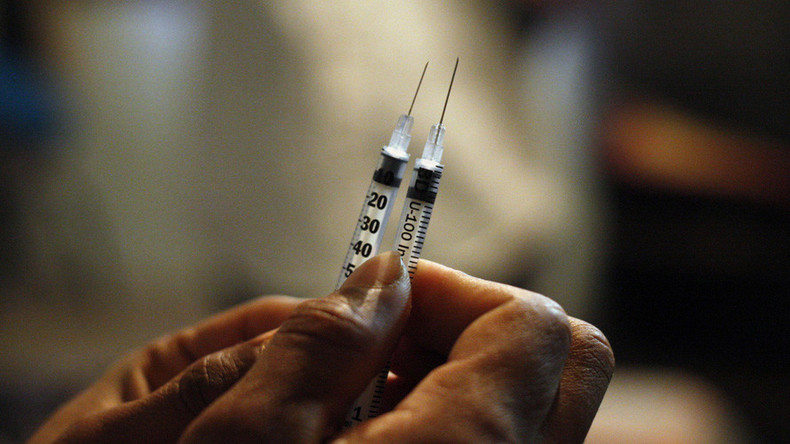 Congress has backed a long-disputed opioid bill aimed at battling a drug addiction epidemic that kills nearly 100 Americans daily. However, the White House says it "falls far short" as GOP senators blocked $920 million for treatment centers.
The Senate voted overwhelmingly 92-2 to pass S. 254, which has been debated for nearly a year. The bill, dubbed the Comprehensive Opioid Abuse Reduction Act of 2016, lays out a plan to curb prescription opioid and heroin abuse.
READ MORE: Opioid abuse bill passed by House after Democrat funding fight fails

White House Press Secretary John Earnest said President Barack Obama would sign the bill "once it reaches his desk," but expressed dissatisfaction over the draft law.
"While the President will sign this bill […] because no action is better than none, he won't stop fighting to secure the resources this public health crisis demands," the press secretary's statement reads.
Democrats have been fighting fiercely to include an additional $920 million to expand funding of opioid addiction treatment nationwide. However, the amendment, much supported by the Obama administration, failed to score Republicans' approval.
"Congressional Republicans have not done their jobs until they provide the funding for treatment that communities need to combat this epidemic," the White House said.
When signed into law, it would allow nurses and physicians' assistants to administer medication to help beat addiction, while also creating a first-ever mandate on doctors to cross-check patients' opioid history.
The legislation creates grants and other programs aimed at addressing drug abuse, authorizing a total of $181 million in new spending over the next eight years.
"This has a few good things, but it is not close enough," Senator Charles Schumer (D-New York), the chamber's third-ranking Democrat, said on the floor Wednesday, according to The Hill.
Senator Richard Blumenthal (D-Connecticut) called the bill "barely a symbolic step."
"Until we commit resources, our words will be a glass half empty," he said.
Parallel to the Senate's attempts to agree on the bill, the Obama administration has been taking action aimed at expanding access to treatment and strengthening prescription drug monitoring.
READ MORE: 'Unprecedented': Heroin use & overdose deaths triple in US

According to the Centers for Disease Control and Prevention (CDC), 2014 set a record for the number of drug overdose-related deaths in the US. The federal agency says 78 Americans die every day from an opioid overdose, while the amount of prescription opioids sold in the US has nearly quadrupled since 1999.
"Heroin-related deaths more than tripled between 2010 and 2014, with 10,574 heroin deaths in 2014," the CDC said. "The largest increase in overdose deaths from 2013 to 2014 was for those involving synthetic opioids (other than methadone), which rose from 3,105 deaths in 2013 to 5,544 deaths in 2014."
You can share this story on social media: