'Spice' drug mass overdose: 33 people hospitalized in NYC after smoking synthetic marijuana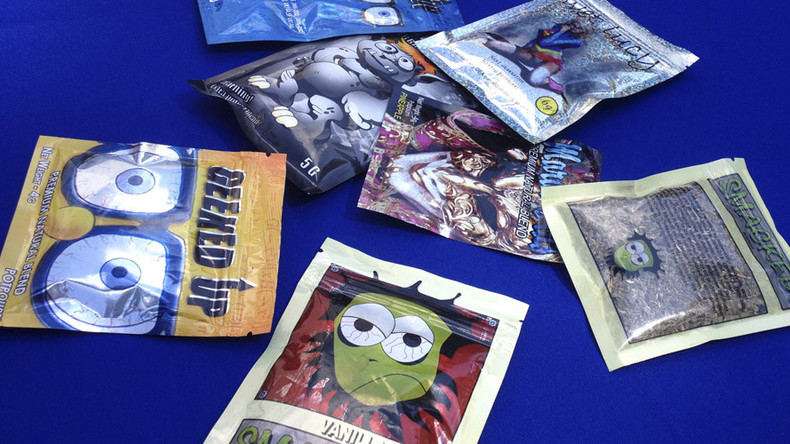 On Tuesday night, 33 people in Brooklyn's Bedford-Stuyvesant neighborhood were hospitalized after consuming Spice, or synthetic marijuana. Witnesses describe the scene looking like something out of a zombie movie.
The synthetic marijuana drug known as Spice, or K2, was responsible for the overdose of 33 "barely conscious" people in Brooklyn on Tuesday, the New York Daily News reported. Some were taken to the hospital in critical condition. Brooklyn local Patricia Cardozo told DNAinfo that the affected "couldn't keep going. They were urinating, vomiting."
Rafael Perez was working at a nearby barbershop and told DNAinfo, "I saw two people smoking for maybe 15 minutes. Then they fell to the floor."
While K2 and Spice are advertised as being an alternative to marijuana, the effects are significantly more severe. The city's Health Department has warned that using the drug can lead to confusion, paranoia, hallucinations, vomiting, seizures, kidney failure and reduced blood supply to the heart.
"It was a scene out of 'The Walking Dead.' People were stumbling all over the place," Brian Arthur, another witness, told DNAinfo.
The drug was outlawed in October 2015 after the New York City council voted to fine stores selling the product anywhere between $5,000 and $50,000, with the possibility of shutting the business down and revoking its tobacco license.
However, it is believed that two small corner stores, or bodegas, were responsible for selling in the Bed-Stuy and Bushwick border. The Big Boy Deli and Dream Burner Tobacco Shop, both close to the Myrtle-Broadway train stop, both had a history for selling the K2, with one of them spraying leaves with chemicals and selling the product in store.
Dream Burner was shut down by police on Wednesday, the Daily News reported.
One of the issues with the drug is that its effects are incredibly inconsistent. The New York City Health Department wrote: "Since the chemicals found in K2 vary from packet to packet, and potency can differ even within one packet, the effects of K2 are unpredictable. People who use K2 may feel fine one time, and become extremely sick the next."
While the effects vary, they are rarely good.
"It could be a bad batch, but show me a good batch," a police source told the Daily News.
Allegedly, the people involved with the mass overdose were too out of it to be interviewed by the police.
Concern over the drug has spread to the top of New York's chain of command, with Governor Andrew Cuomo and Mayor Bill de Blasio both expressing concern.
Cuomo compared the overdoses to the spread of heroin and crack cocaine in the late 1980s. One resident expressed similar sentiments in a video he took of the scene, saying, "I remember when dope used to be that way, dope used to have people like that."
Cuomo acknowledged the current drug crisis across New York State.
"Between synthetic marijuana, between opioids and heroin we have a real crisis on our hands," he said. "It is a law enforcement crisis, no doubt, but it's also an education crisis, a family crisis and it's a treatment crisis."
Mayor de Blasio responded to the mass overdose by announcing a larger scale crackdown on the sale of synthetic marijuana.
"You're going to be seeing very rigorous enforcement very quickly," he told reporters, going on to say, "We're going to shut down any stores that are doing this."
He also highlighted the issues that are relatively unique to synthetic marijuana, a drug that some may assume is harmless or undergoes some type of quality control, due to the commercial sale of it.
"All drugs should be approached with great suspicion," the mayor told reporters, "but this one changes all the time, in some ways very, very dangerous ways. So I want to particularly urge parents talk to your young people."
"If you're selling this drug we have the ability to shut your store down. We will literally take away your livelihood. So I hope that is a clear enough warning that, yes, help is on the way to any neighborhood afflicted," de Blasio said.
The area where the incident took place sits right on the border of Bushwick and Bed-Stuy, where local residents complain that help is not coming fast enough.
"Being this is an isolated block, they smoke their K2 here and we over here chase them out of here," a local told New York 1, adding, "They sit on the side of the fence, they smoke their K2, they get their little seizures, they pass out."
A former nurse at a Brooklyn hospital, who wished to remain anonymous, told RT that K2 users brought to the emergency room would behave like "demons." The nurse said that the users have a reputation for attacking caregivers, including one who was bit on the neck by a K2 overdose patient. The nurse described that scene as "a bloodbath."
You can share this story on social media: