BRICS/SCO summits at a glance: New Development Bank, Greece crisis, Iran oil
As the BRICS/SCO summits wrap up in Russia, RT looks back at the issues dominating three days of meetings with a launch of $100bn reserve currency pool, high hopes about the New Development Bank and the possible impact of Iran deal on oil among them.
LIVE UPDATES: BRICS/SCO summits in Russian city of Ufa
About 10,000 visitors gathered at the two events, the BRICS and the Shanghai Cooperation Organization (SCO) summits which took place in the Russian city of Ufa on July 8-10.

READ MORE: BRICS kick starts $100bn reserve currency pool

The summits kicked off with BRICS countries agreeing to a $100bn reserve currency pool which aims to protect the member states – the emerging economies of Brazil, Russia, India, China and South Africa – from currency volatility shocks.

READ MORE: BRICS bank has own goals, not designed to compete with likes of IMF & World Bank – VEB head
Signing joint documents following the #BRICS leaders meeting pic.twitter.com/4JUFOIeUKA

— BRICS2015 (@BRICS2015) July 9, 2015
High hopes about New Development Bank
The BRICS New Development Bank, an alternative and a supplement to existing international "hard currency" financial institutions, has been launched during the summit.

"The decision was made to create a financial institution which is to support economic development in BRICS countries. I would rather say that it's a complimentary vehicle to be focused specifically on the development of BRICS countries," Vladimir Dmitriev, CEO of Vnesheconombank told RT.

READ MORE: BRICS bank to consider new infrastructure projects by 2016 – finance minister
Anton Siluanov has been appointed Board Chairman of the New Development Bank http://t.co/4epDrMv51dpic.twitter.com/IuE0KX7adW

— BRICS2015 (@BRICS2015) July 8, 2015
The bank is going to consider the feasibility of new infrastructure projects by the end of the year, and the acceptance procedure will be clear and transparent, according to Russian Finance Minister Anton Siluanov.

"We agreed that the procedures for adopting new projects will be simple, clear and transparent in order to make quick decisions, because the BRICS bank should be efficient and competitive," Siluanov told RT.

READ MORE: BRICS New Development Bank may approve first loan by April, 2016 – President Kamath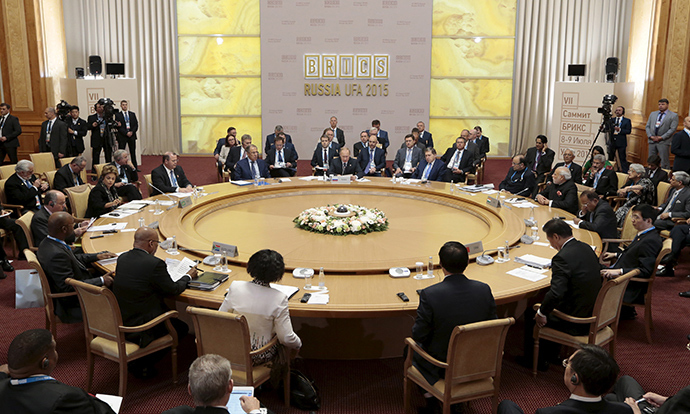 The new bank may give its first loan by April 1, 2016, according to its president of Kundapur Vaman Kamath.
"My first target is that by April 1, 2016 we will approve our first loan," K.V. Kamath told Press Trust of India news agency, adding that "there will be no competition at all."

"The market is big enough for all of us. We all will be major partners in the development of India and other developing markets."

READ MORE: World needs more development banks like BRICS', not 'mindless austerity' – minister
According to South Africa's Trade and Industry Minister Rob Davies, New Development Bank is likely to become new source of funding for the current infrastructure gap.
"I believe we will not be guided by mindless austerity which is causing enormous difficulties in some parts of the developed world."
BRICS to switch to national currency settlement soon - VTB head

The summits agreed that the association will start using their local currencies for mutual settlements quite soon, the head of Russia's VTB bank Andrey Kostin said.

"We definitely see a growing interest from the countries to make settlements in local currencies," he said, adding that the summit gave a boost to Russian-Chinese relations.
Official photograph of the #BRICS leaders pic.twitter.com/08BxFQcTYC

— BRICS2015 (@BRICS2015) July 9, 2015
Shadow of Iran nuclear deal talks
The Iran question, which has been a hot topic in recent days, was also touched upon during the summits.

On Friday Tehran and the six world powers again shifted a deadline for a deal on Iran's nuclear program, with both sides blaming each other.
Right now meeting with President Putin re deepening of bilateral ties & further cooperation. #ConstructiveEngagementpic.twitter.com/8mU8kF4oSH

— Hassan Rouhani (@HassanRouhani) July 9, 2015
According to Russian Finance Minister Anton Siluanov, the impact of the Iranian oil that is expected to come to world markets after it signs the agreement on its nuclear program is still difficult to forecast.

"The oil price undoubtedly forms due to market demand and supply and today we see that the instability of financial markets in China has already influenced the price," he said.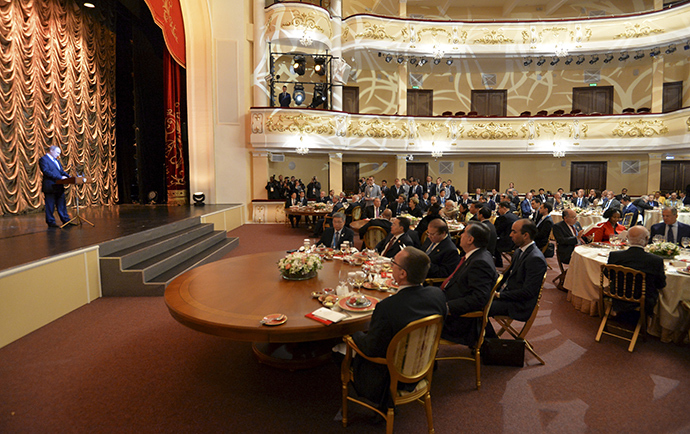 Greek crisis
The Greek question wasn't left unnoticed during Russian President Vladimir Putin's Q&A session with journalists on the final day of BRICS/SCO summits.
READ MORE: Putin: Where was EU when Greek crisis was evolving?

"Of course, all the blame can be shifted to the Greeks. But if there were violations in their activity, where was the European Commission? Why didn't it make any adjustments to the economic activity of the previous government of Greece?" Putin asked.
#Putin LIVE: #Iran sanctions should end ASAP, don't work http://t.co/BsSIpBBadE#IranTalksViennapic.twitter.com/rxlwpmcDVz

— RT (@RT_com) July 10, 2015
His statement came as Athens' new deadline to reach an agreement with its troika of creditors – the IMF, the ECB and the European Commission – is set to be reached this weekend. On Thursday night, Greece presented its new reform plan that, critics say, mirrors the bailout deal that the Greeks rejected at the referendum held Sunday.
Vladimir Putin also held 11 bilateral meetings and a trilateral meeting with China and Mongolia in order to foster regional cooperation.
You can share this story on social media: