BRICS kick starts $100bn reserve currency pool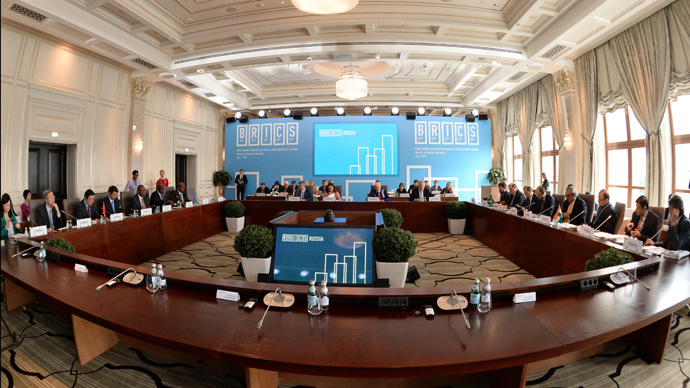 The Central banks of BRICS countries have signed an operating agreement on the currency reserve pool, according to Central Bank of Russia. The $100 billion pool aims to protect BRICS member states from currency volatility shocks.
BRICS/SCO summits in Russian city of Ufa LIVE UPDATES
The agreement was signed Tuesday in Moscow after the meeting of the Finance Ministers and Chiefs heads of the Central Banks of BRICS, the statement of the Central Bank of Russia (CBR) said. It contains a detailed description of the procedures which are carried out by the central banks of BRICS states – the emerging economies of Brazil, Russia, India, China and South Africa - within the currency reserve pool, defines their rights and duties.
#BRICS central banks sign CRA mutual assistance agreement http://t.co/XNoCLsmykq

— BRICS2015 (@BRICS2015) July 7, 2015
It will come into force on 30 July, according to the CBR head Elvira Nabiullina. She added that several other documents will be adopted to regulate the operation of governing bodies - the Governing Council and the Standing Committee.
China will make the biggest contribution to the pool: $41 billion. Russia, Brazil and India will donate $18 billion each, while South Africa's investment will be $5 billion.
READ MORE: Putin ratifies BRICS $100bn currency pool deal
Nabiullina explained that so far the money remain on the banks' balance sheets and will be unlocked as soon as any of the BRICS member states ask for help.
In May, Russian President Vladimir Putin ratified a deal to establish a $100 billion foreign currency reserve pool for the BRICS group.
Last July, Russia, Brazil, India, China and South Africa signed the document to a reserve currency pool worth over $100 billion as well as $100 billion BRICS Development Bank.
The goal of the pool is to give BRICS member states opportunity to provide each other financial assistance in case of problems with their balance of payments.
Earlier, Putin said that Russia expects to launch the $100-billion BRICS New Development Bank along with a currency reserve pool at the BRICS summit in Ufa, Russia, which kicked off Wednesday.
You can share this story on social media: