BRICS/SCO summits in Russian city of Ufa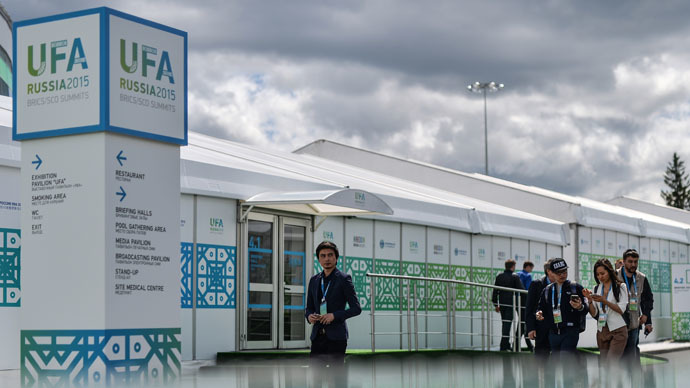 About 10,000 visitors are expected at the two events in Ufa – the BRICS and the Shanghai Cooperation Organization (SCO) summits – taking place on July 8-10. RT will keep you updated on the latest developments.
10 July 2015

13:35 GMT

Russian President Vladimir Putin has held a Q&A session with journalists, wrapped up the 3-day BRICS/SCO summits in Ufa. He repeated that Greece hasn't asked Russia for financial help. He also expressed hope for a quick resolution of the crisis in Ukraine as well as the Iran nuclear deal.The President invited the journalists to the Eastern Economic Forum that'll take place in Vladivostok in October.

12:40 GMT

Here is the SCO declaration, as yet only available in Russian

11:38 GMT

SCO summit ended with adoption of documents aimed at expanding the six-member organization. The leaders of Russia, China, Kazakhstan, Kyrgyzstan, Tajikistan and Uzbekistan have inked the decision to launch the procedure of accession of India and Pakistan to the bloc. Belarus was granted and observer status, while Azerbaijan, Armenia, Cambodia and Nepal became dialogue partners.

SCO leaders have signed the Ufa declaration and the development strategy up to 2025 and agreed to tackle terrorism, separatism and extremism. The next SCO summit will be held in September 2016 in Uzbekistan.

10:53 GMT

India has been an actively participating in SCO activities that are open to Observers. We have deeply valued our association with SCO: PM

— PMO India (@PMOIndia) July 10, 2015

10:53 GMT

I also take this opportunity to congratulate Pakistan on joining the SCO: PM @narendramodi at the SCO Summit

— PMO India (@PMOIndia) July 10, 2015

10:43 GMT

SCO leaders have signed a document to begin the accession procedure of Pakistan into the group.

10:39 GMT

Mongolia expects representatives of the SCO at the autumn session of the OSCE Parliamentary Assembly to be held in Ulan Bator, said President Tsakhiagiin Elbegdorj.

09:37 GMT

SCO members are planning to issue international youth travel cards, said President Putin at the SCO summit. "I am convinced that this project will help young people develop mutual contacts," Putin said.