World needs more development banks like BRICS', not 'mindless austerity' - minister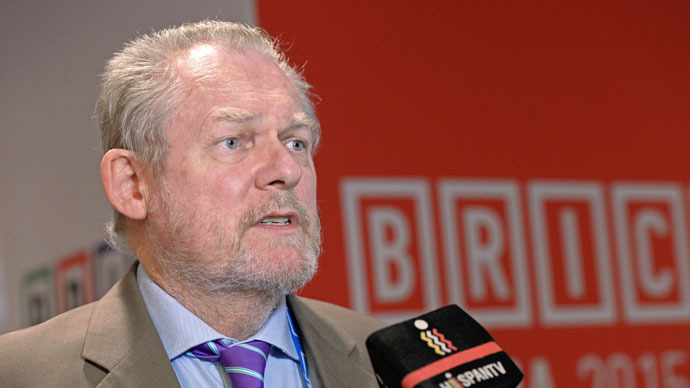 BRICS is gaining momentum as an increasingly effective organization and its New Development Bank is likely to become new source of funding for the current infrastructure gap, South Africa's Trade and Industry Minister Rob Davies told RT.
READ MORE: BRICS/SCO summits in Russian city of Ufa LIVE UPDATES
There's a need for more development banks in the world involved in more developmental finance, the minister said on the sidelines of BRICS/SOC summits in Ufa. And there's a need to try to tap into more sources of capital while there's an infrastructure funding gap.
"I believe we will not be guided by mindless austerity which is causing enormous difficulties in some parts of the developed world," he said.
Speaking about trade and cooperation, the minister claimed BRICS are very interested in moving away from third countries' currencies as the need to convert into a third currency creates extra costs. The process of switching to domestic currencies involves discussions at central bank level, it's already happening and the member states are very interested in it, he added.
READ MORE: BRICS New Development Bank may approve first loan by April, 2016 – President Kamath
Trade between Russia and South Africa tripled between 2010 and 2014, but Western anti-Russia sanctions and the price of oil have definitely influenced trade, according to Davies. However, South Africa sees a lot of opportunities for growth and the possibility of important investment projects with Russia as well as with other BRICS nations.
The country never supported the Western sanctions imposed against Russia, and doesn't believe they are justified, according to Davies. Sanctions have a "negative impact both on Russia and the imposers of those sanctions."
"During the World Economic Forum in Davos I heard a number of prominent European citizens also decrying the negative impact of the sanctions and the lack of justification for them," Davies said.
Strengthening ties with Russia will take place regardless of sanctions. South Africa is a fruit and food exporting country and while there is currently demand for such products in Russia, "exporters are ready to step up to the plate."
You can share this story on social media: