EU extends economic sanctions against Russia for 6 months - official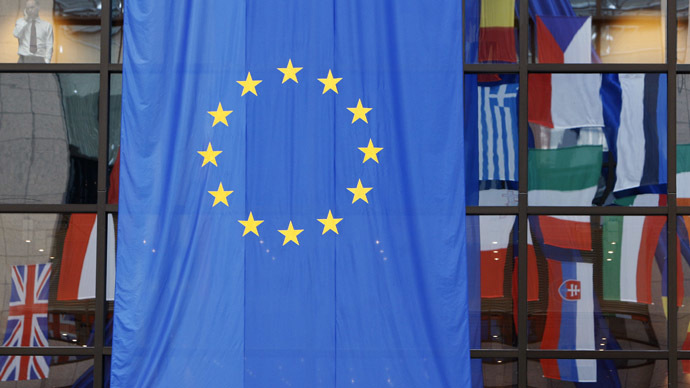 The European Union has extended economic sanctions against Russian for a further six months, an EU official said. This follows the EU's decision Friday to extend sanctions against Crimea for another year.
The decision to extend the sanctions against Russia was announced by the EU Council's press officer for foreign affairs, Susanne Kiefer.
The sanctions are being maintained until January 31, 2016 to ensure the Minsk agreement is implemented, she wrote in her Twitter account.
EU has extended economic sanctions against Russia until 31 January 2016, with a view to complete implementation of Minsk agreement.

— Susanne Kiefer (@Susanne_Council) June 22, 2015
The European Union will review the sanctions regime against Russia in six or seven months, Italian Foreign Minister Paolo Gentiloni told reporters in Luxembourg.
Dialogue with Russia, especially on Libya and Syria, is "crucially important" for the EU, Gentiloni added.
Russian Prime Minister Dmitry Medvedev ordered his chief of staff to ask President Putin for an extension of Russian counter-sanctions following the EU decision. The premier also ordered the preparation of a decree listing all categories of products and types of transactions covered by the restrictive measures.
Medvedev: I propose that restrictive measures on imports of certain food products to Russia be renewed pic.twitter.com/kbDaGAkfab

— Government of Russia (@GovernmentRF) June 22, 2015
A document to extend the food embargo on EU products was submitted to the Presidential Administration by Monday evening, said government spokesperson Natalia Timakova. The list of goods is practically unchanged except for products needed for import substitution, she added.
It wasn't Russia that began the restrictive measures in the first place, but it would answer reciprocally, Russian presidential spokesman Dmitry Peskov told reporters on Monday.
The policy of sanctions harms not only business activity in Russia, but European taxpayers as well, he added.
Agreement on the extension of sanctions was reached at a meeting of the EU Permanent Representatives Committee on June 17. In March, the EU Summit adopted a political declaration of intent to extend economic sanctions against Russia for another six months. In the document, the lifting of sanctions was linked to the full implementation of the conditions of the Minsk agreement, for the period up until the end of the year.
READ MORE: 'Political blackmail': Russia slams renewed EU sanctions, says measure is 'hopeless'

EU sanctions against Russia include restrictions on lending to major Russian state-owned banks, as well as defense and oil companies. In addition, Brussels imposed restrictions on the supply of weapons and military equipment to Russia as well as military technology, dual-use technologies, high-tech equipment and technologies for oil production. No sanctions were imposed against Russia's gas industry.
The EU imposed sanctions against Russia on August 1, 2014, and tightened them in September the same year. In October, a separate decision by the EU Council loosened restrictions against European subsidiaries of Russian state banks.
As a countermeasure, Russia introduced a food embargo against countries that supported the sanctions, and has pursued a policy of import substitution since then.
The impact of the countersanctions on the EU economy is higher than initially forecast by Brussels, according to a recent study by the Austrian Institute of Economic Research (WIFO).
READ MORE: Anti-Russian sanctions hurt Europe harder than expected, threaten 2.5mn jobs – study
As a result of the sanctions, up to 2.5 million Europeans are facing job losses, and the EU could see a €100 billion loss in economic development.
WIFO calculated that if the sanctions are continued for the next few years, Germany would lose 465,000 jobs due to reductions of exports to Russia. Italy would lose 215,000 jobs, Spain 160,000 jobs, France 145,000 jobs and the UK 110,000 jobs.
Switzerland, which is not part of the EU but followed Brussels' lead on sanctions, would see losses of 45,000 jobs, including 5,000 in the tourism sector, the study said.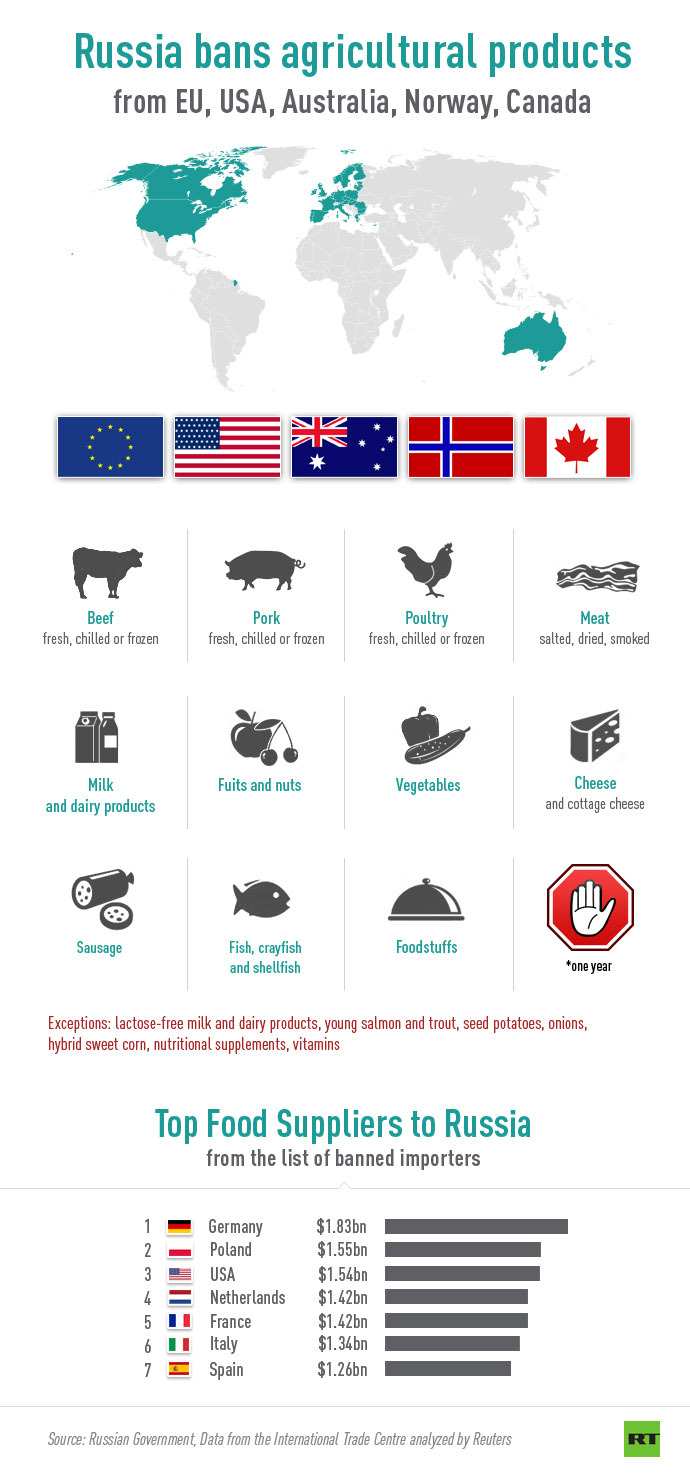 You can share this story on social media: