Russia resumes gas deliveries to Ukraine after six-month hiatus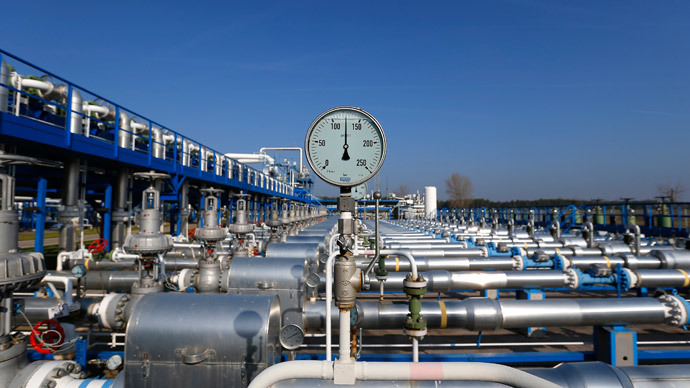 Russian gas deliveries were received by Ukraine on Tuesday, with a total of 43.5 million cubic meters to be imported, according to a spokesman for Ukrtransgaz, Naftogaz's transport subsidiary.
"On Tuesday Ukrtransgaz started importing natural gas from Russia. 43.5 million cubic meters of gas from Russia will be imported to meet the everyday needs of Ukrainian citizens," company spokesman Maksim Bielawsky said. Gazprom also confirmed.
Russian gas giant Gazprom confirms start of gas deliveries to Ukraine

— Sputnik (@SputnikInt) December 9, 2014
Deliveries were initially planned to resume on December 11, but Naftogaz asked to begin receiving the gas earlier, TASS reports.
Kiev, which saw winter come early this year, has been burning through energy, making the need to reach out to Russia for natural gas, coal and electricity more pressing.
READ MORE: Debt-ridden Ukraine buys 1 bcm of Russian gas as winter gains force
Gazprom confirmed Sunday that Ukraine's gas importer, Naftogaz, has paid $378 million for 1 billion cubic meters of Russian gas for December delivery.
The taps have been turned off since June 16, when Gazprom ceased deliveries after Ukraine failed to pay its billion-dollar debt and simultaneously demanded a discount. The company instead put Kiev on a prepayment plan.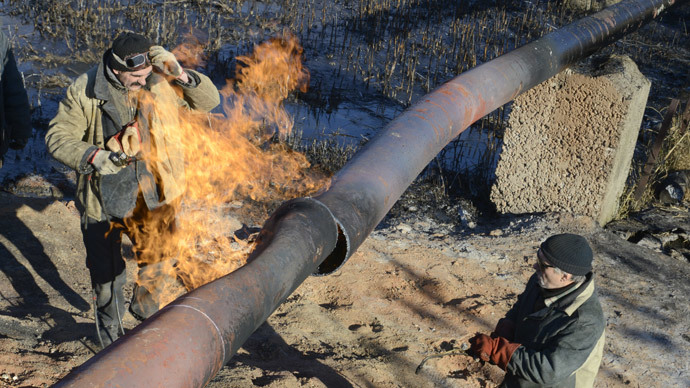 On November 5, energy-starved Ukraine paid off $1.45 billion of its gas debt, a precondition to resume deliveries. This was part of the so-called 'Winter Gas Plan' between Russia, Ukraine, and the European Commission to ensure gas would flow through Ukraine to Europe through the winter months and not be shut off over a gas dispute, as in 2006 and 2009.
Under the plan, Ukraine will be able to fulfill its gas needs through the end of March, but only as long as it pays for its gas up front at the price of $378 per 1,000 cubic meters.
Ukrainian arrears to Gazprom had piled up to over $5 billion when the company turned off supplies, and Ukraine is expected to repay $3.1 billion before the end of 2014.
Ukraine energy 'collapse'
The energy crisis in Ukraine has been deepening since anti-Kiev forces took over in the eastern regions. No natural gas, low stock piles of coal, emergency blackouts, and lack of water, are making things worse for the people as the cold weather bites.
The country needs 3 million tons of coal to survive the winter, but only has 1.4 million tons in reserve as of December 5.
The eastern Donbass region is home to 90 percent of the country's mines, most of which are closed. Kiev would rather buy coal from Moscow than from the rebels, who have an excess supply and would be able to sell it cheaper than Russia.
READ MORE: Ukraine out in the cold this winter without coal from Russia, Donbass – Energy Minister
A deal with South Africa to import coal fell through, and unable to produce itself, last week Ukraine imported 50,000 tons from Russia.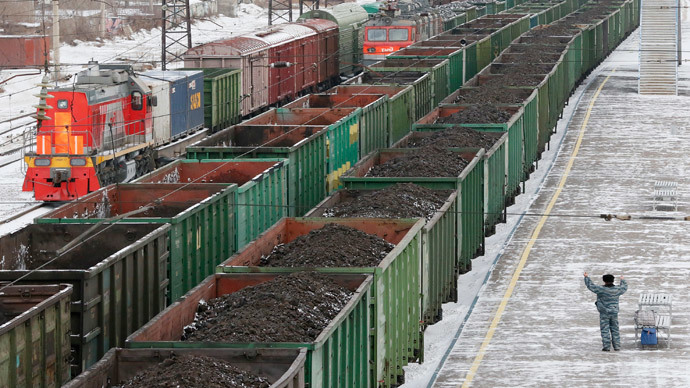 READ MORE: 50,000 tons of Russian coal enter Ukraine
Coal is used to heat homes, but is also used to generate electricity. Nearly 40 percent of Ukraine's electricity is generated from coal. Blackouts are a common occurrence across all regions, and hot water is now considered a luxury, even in the capital city Kiev.
The lack of fossil fuels has caused an electricity shortage in Ukraine, which has meant the national energy company Ukrenergo has been making emergency power cuts all over the country. Ukrenergo started emergency electricity blackouts on December 1.
On December 3, an accident at Ukraine and Europe's largest nuclear plant, left dozens of towns without electricity.
The Energy Ministry has imposed limits on electricity use between 8am and 11am in the morning and between 4pm and 8pm in the evening.
You can share this story on social media: