Tumbling oil prices 'net positive' for advanced countries, risk for Russia – IMF chief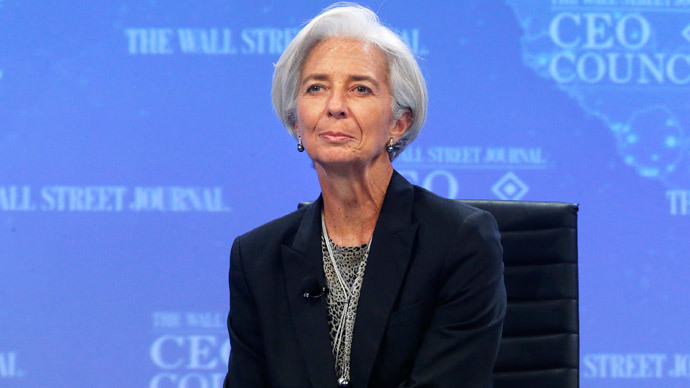 Oil prices that have lost about 30 percent this year will help boost most of the developed economies, including the US, that have been struggling with growth, said the IMF chief Christine Lagarde.
"On a net-net basis, it is probably good for the global economy," Lagarde said at The Wall Street Journal CEO Council annual meeting, commenting on the steep drop in oil prices which was accelerated by last week's OPEC decision to keep production as is.
READ MORE: Oil slumps 4% as OPEC leaves output unchanged
A 30 percent drop in oil prices translates into a 0.8 percent boost in growth for "most advanced economies," and "probably 0.6 percent for the US," Lagarde explained.
For the United States, low energy prices could help to stimulate growth to 3.5 percent next year from the October forecast of 3.1 percent, she said. The US officially exited recession five and a half years ago and it's now growing at about 2 percent annually.
Economies across the eurozone have things much worse, as most of the countries still face high unemployment and low inflation. China, the world's second biggest oil consumer, grew by 7.3 percent in the third quarter, the lowest pace in 5 years.
READ MORE: Higher oil prices could drag OPEC's 'best customers' into recession, expert warns
However, for oil exporting countries like Russia the drop is a "significant threat" that "is adding to their fragility and their vulnerability," she said.
For Russia, exports of oil and gas equate to 68 percent of Russia's total exports, and 50 percent of its federal revenues. Russia has already spent almost $90 billion from its currency reserves in 2014, or 4.5 percent of its economy to support a plunging ruble that has lost more than 40 percent from the start of the year.
"It remains to be seen what the reaction will be," Lagarde said.
Last week Russia's Finance Minister Anton Siluanov acknowledged that lower oil prices add about $90-100 billion in losses to the Russian economy.
However, other Russian officials have so far maintained that the economy won't be hit hard and budget obligations will be met, as lower oil prices are balanced by a weaker ruble.
READ MORE: Cheaper oil takes Russian ruble to new lows; officials say no reason to worry