China grows at 'new normal', but still at 5 yr low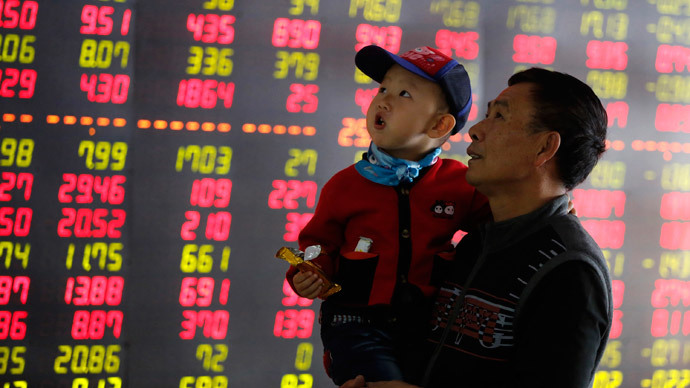 China grew 7.3 percent in 3Q of 2014, the lowest since 2009. The government said it was quite comfortable with a slowdown from a 7.5 percent growth in the previous period, as all of its partners in the emerging markets and in the EU are losing steam.
The Chinese Government called the third quarter result a 'new normal', as they expect the full year result to be at 7.5 percent. The fresh data released Tuesday by the Chinese National Bureau of Statistics comes at a time when other emerging economies are slowing and the EU member states risk falling into a triple – dip recession.
READ MORE: Eurozone inflation slumps to 5yr low risking triple-dip recession
Tuesday GDP also topped most of the analyst expectations that stood at around 7.1 – 7.2 percent.
Some of other major economic indicators published on the same day showed that a slowdown may not be really dramatic. Industrial output accelerated 8% from a year earlier and exports surged 15.3 percent in September from the year-ago period.
"Although growth has slowed, it reflects a welcome rebalancing away from excess investment in certain sectors of the economy and is not cause for significant concern," Julian Evans-Pritchard, economist of Capital Economics said to AP.
The third quarter result was also the lowest since 2009. Some experts warn that China's skyrocketing debt, coupled with a slump in property sector and oversupply of industrial capacity will trigger further slowdown in the world's second largest economy.
The total debt to GDP ratio in China soared to 251 percent in June this year from 147 percent at the end of 2008, as the Financial Times refer to the estimates from Standard Chartered. In terms of the credit accumulation the World Bank described China as "rivalled only by Ireland in the years leading up the global financial crisis". Revenue from housing sales dropped 10.8 percent in the third quarter and the investment in real estate going up 12.5 percent, which is adding to oversupply in the country.
However, experts say the slowdown also looks natural as China has experienced more than 3 decades of growth.
"China's super-rapid growth has already lasted three times longer than a typical episode and is the longest ever recorded," as FT quotes Lawrence Summers, former US Treasury secretary, writing in his academic paper. "The ends of episodes tend to see full regression to the mean [of around 2 per cent growth], abruptly."
You can share this story on social media: