Eurozone inflation slumps to 5yr low risking triple-dip recession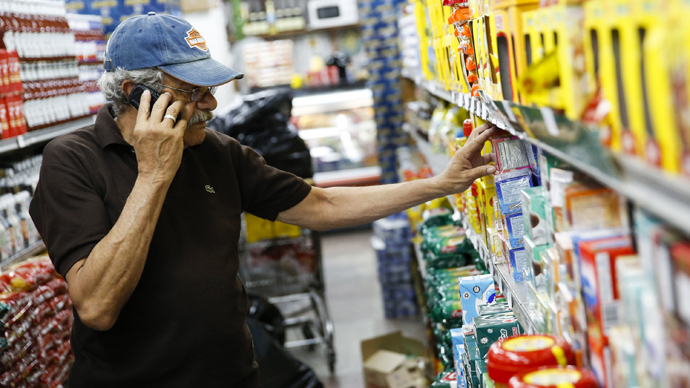 Inflation in the 18-member eurozone has dropped precipitously low to 0.3 percent, the lowest since 2009. The European Central Bank missed its 2 percent inflation goal for the 20th straight month.
Consumer prices rose 0.3 percent last month, compared to 1.1 percent in September 2013. Monthly inflation in August 2014 was 0.4 percent, Eurostat reported Thursday.
The prognosis was slightly better in the whole EU rather than the 18 eurozone members. Overall EU inflation was 0.4 percent last month, compared to 1.3 percent in September 2013. In August inflation was recorded at 0.5 percent.
Inflation is one of the major economic indicators, with limited price rises signaling robust growth. A combination of weak growth in the eurozone and deflation threaten an excessive debt burden.

"We expect inflation to pick up only modestly to 0.5 percent to 0.6 percent by the end of the year," HSBC analysts told the Telegraph.
European Central Bank President Mario Draghi has talked about using "extraordinary tools" to bring the eurozone back to growth, one of which may be monetary easing, or pumping stimulus into the economy, as the US did after the 2008 financial crisis.
Adding to the problems, the region's GDP looks set to contract in the third quarter of the year, after showing no growth at all in the second quarter.
The International Monetary Fund published a report saying the EU has a 35-40 percent likelihood of falling back into recession.
If the eurozone doesn't post growth in the third quarter, it will have hit a triple dip recession- meaning it hasn't shown any growth in nine months.
The three largest economies, Germany, France, and Italy, all failed to grow in the second quarter.
You can share this story on social media: