Eurozone crisis might not be over, S&P warns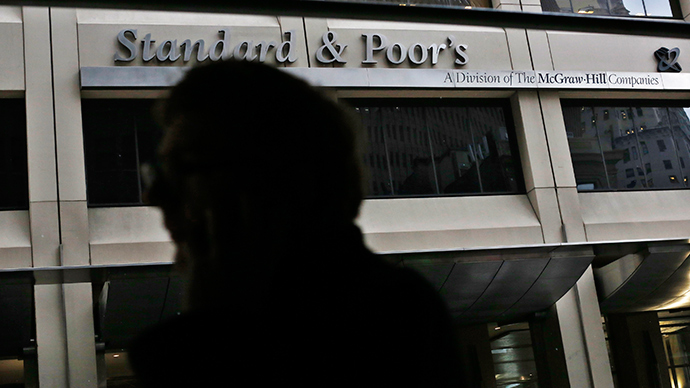 The eurozone may be entering another stage of recession as governments, banks and companies struggle to cut their massive debts in a period of weak economic growth, rating agency Standard & Poor's has warned.
The European currency block is entering a new stage of economic crisis, S&P said in a report on Thursday.
"We think the eurozone might be entering a stubborn phase of subdued growth as deleveraging continues and the world economy weakens," the paper reads.
READ MORE: Eurozone inflation slumps to 5yr low risking triple-dip recession
The warning followed manufacturing data which showed a slump in France in October. The Markit Flash Euro Zone Composite Output Index fell to 48.0 comparing to 48.4 in September. That is the lowest since February. A reading below 50 marks a contraction in private sector activities. France's economy has been nicknamed the 'sick man' of Europe in recent months.
There were better forecasts for Europe on the whole, as its composite PMI showed an unexpected result rising to 52.2 up from 52.0 in September.
Further data released by Markit showed the private sector in Germany grew, showing promise after a series of disappointing data for the eurozone's largest economy. The country's flash composite PMI for October grew to 54.3 from 54.1 last month.
READ MORE:German economy in 'choppy waters', as growth forecast slashed to 1.2%
Earlier this month S&P revised its outlook on France's long-term sovereign rating to negative and cut Finland's rating to AA+. Germany and Luxembourg are the only countries of the eurozone left with AAA ratings.
The agency believes a large overhang of debt is one of the main impediments to a more visible recovery. It says that the origins of the eurozone crisis were not public prodigality and budget deficits, but excessive private sector borrowing from external sources.
"Only after public and private debt levels are back to their appropriate levels will, we believe, the national savings rates moderate and demand and growth return," S&P credit analyst Moritz Kraemer says.
He believes another issue lies beneath a controversial program known as Outright Monetary Transactions (OMT). In 2012 the European Central Bank promised to buy the debt of stressed countries under the program. It hasn't currently activated OMT, but it has been credited with calming markets.
Experts believe stabilizing macroeconomic conditions, monetary and fiscal accommodation can open the way for microeconomic reforms, which can contribute to sustainable growth and development.
These reforms can include amendments to the tax code, labor market institutions, cutting red tape, introducing competition into sheltered sectors, pension reforms, and education, among others. None of these reforms are on the duty list of the European Central Bank or the European Commission. These are responsibilities of national parliaments and require national leadership as well as ownership.
"How governments react to the current volatility and economic slowdown will be important determinants for the eurozone's future direction," Mr. Kraemer said.
You can share this story on social media: