​IMF cuts 2014 global growth forecast to 3.3%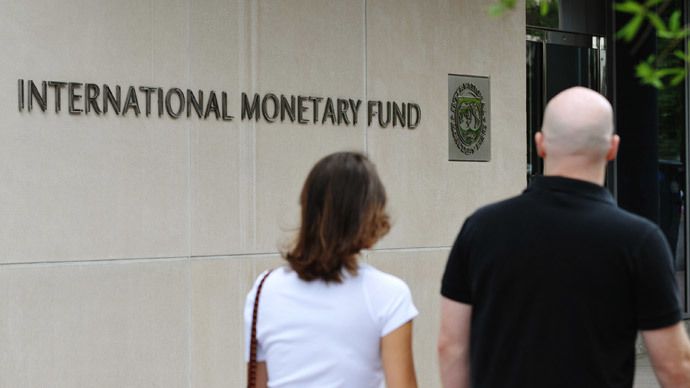 The International Monetary Fund (IMF) has slightly lowered its outlook for global economic growth this year and in 2015, mostly due to continued weakness in Europe and lower growth in some emerging markets.
The IMF lowered its forecast for global economic growth in 2014 to 3.3 percent from 3.4 percent. World growth should pick up to 3.8 percent in 2015, according to an IMF report.
Fund economists suggest that global economic growth this year will be equal to the growth in 2013. They warn that current estimates of growth are "based on the assumption that the key drivers of growth in the advanced economies, including ... an easing monetary policy remain in force."
Another initial assumption is "reduction in geopolitical tensions" and at least some improvement in the "economies that are under stress."
Despite the setbacks, the unstable global economic recovery continues, IMF analysts say. In particular, they estimate that in developed countries, economic recovery is still slowed by the residual effects of the crisis, "including a high level of public and private debts."
Continued decline in 2014 is projected only in Italy with minus 0.2 percent, but even there, it is forecast to be replaced by the rise to 0.8 percent next year. The main engines of growth in Western Europe are the UK with 3.2 percent and 2.7 percent and Germany with 1.4 and 1.5 percent in 2014 -2015.
Russia is projected to end this year with only 0.2 percent growth and to expand by 0.5 percent in 2015.
Meanwhile its BRICS counterpart China is projected to grow 7.4 percent this year and experience a small decline to 7.1 percent in 2015.
The global lending organization has a more optimistic view of the US economy, which it expects will grow 2.2 percent this year. The forecast is a half percentage point higher than it was when the fund last updated its estimates in July. The 2015 forecast projects the country's economy to grow 3.1 percent.
The IMF also published its new estimates and forecasts for oil prices. The average level was projected to reach $102.76 per barrel in 2014, and $99.36 in 2015. To compare, in 2013 the figure was $104.07 per barrel.
Ruslan Aymalov, Business RT