Powerhouse Germany gets own spoonful of austerity
​German industry is feeling the most pressure since the peak of the global financial crisis in 2009, putting Berlin in a difficult position as it preaches tough austerity to its neighbors. Russian sanctions are only exacerbating the economic misery.
Industry orders tumbled 5.7 percent in August from July, the fastest since January 2009 when they dropped 7.7 percent, the Germany Economy Ministry in Berlin said Monday. The drop was much higher than economists at Bloomberg (1.5 percent) and Reuters (2.5 percent) forecast.
Germany factory orders, adjusted for seasonal swings, were 4 percent less in August than in July, the biggest drop since 2009.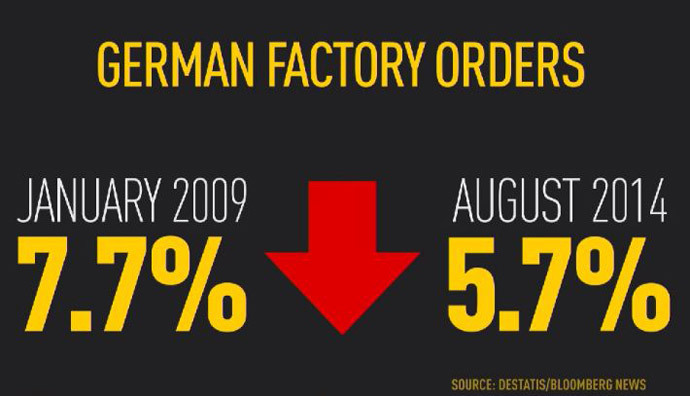 Foreign orders dropped 8.4 percent, investment and goods orders tumbled 8.5 percent, and basic goods fell 3 percent and domestic orders 2 percent.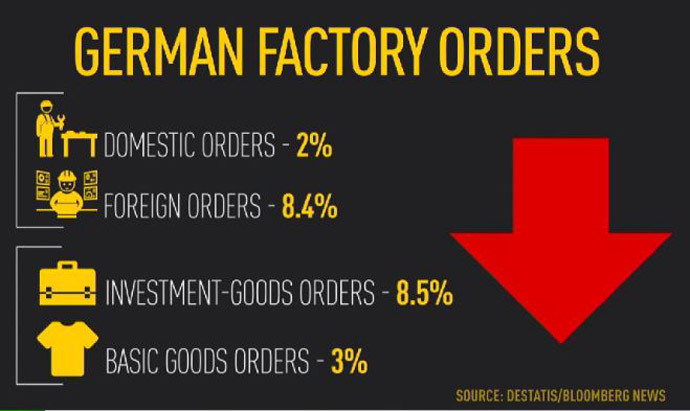 Germany's attempts to resurrect the EU's economy after the 2008 financial crisis have been marked by cutbacks and taxation. The austerity plan has proven to be severely unpopular in the eurozone, still struggling with economic weakness.
Germany provides the bulk of the finance, nearly 48 percent or €210 billion of European financing. However, the European Central Bank (ECB) wants it to boost spending to spur investment, and the IMF agrees it is a measure needed to revive the eurozone. So far, Germany has resisted stimulus spending, and has even called it illegal.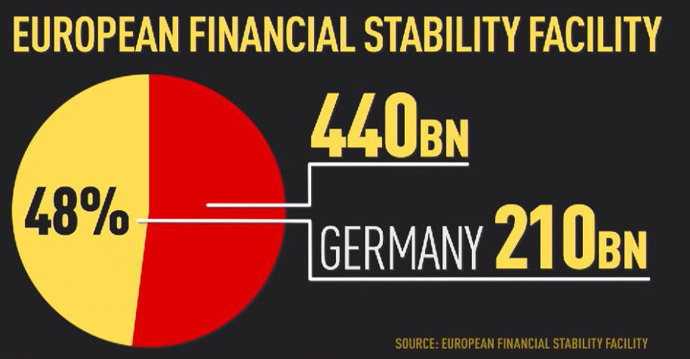 At the last ECB meeting, head Mario Draghi admitted that the 18 members who use the euro was "losing momentum" a sharp departure from last March's statement that the euro was "an island of stability"
The Russia factor
The standoff with Russia over Ukraine may be a big factor in the downfall, since Russia is Germany's largest export market. German unions have predicted that exports to Russia could drop by as much as 25 percent this year.
"It's very clear that Europe doesn't have what it takes to stand on its own. This is at a time when the European economy and much of the global economy is on a severe down trend," Gerald Celente, publisher of Trends Journal, told RT.
Eurozone's giant headed for recession?
Europe's €9.5 trillion economy still hasn't clawed itself to economic recovery, but Germany has long been praised as the powerhouse. However, recent economic indicators tell another story.
The German economy shrank by 0.2 percent in the second quarter of 2014 after it demonstrated a 0.7 percent growth in the first three months of the year.
At $1.5 trillion, Germany accounts for nearly 30 percent of the gross domestic product of the entire 18-member eurozone.
Consumer confidence also is on the decline as unemployment continues to climb for the second consecutive month.
Later on Tuesday, the International Monetary Fund is expected to cut Germany's growth forecast for 2014 to 1.5 percent, down from previous estimate of 1.9 percent. Growth in 2015 may be slashed to 1.7 percent, according to Der Spiegel magazine.
You can share this story on social media: