​German business confidence shattered, lowest in 13 months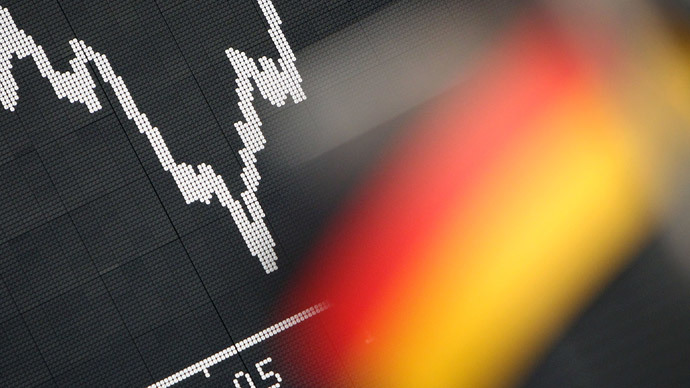 Business confidence in Germany, which has led the EU economic revival over the last year, declined for a fourth month in August, which further clouded prospects of a broader recovery across the EU.
Germany's Ifo Business Climate Index in manufacturing, which looks at the confidence of the country's 7,000 firms, fell to 106.3 in August from 108 in July.
It's the lowest figure since last July, marking the longest successive monthly decline since 2012, the report said.
Monday's figures come after frustrating economic data for the second quarter. It showed Europe's biggest economy contracted 0.2 percent during the period, after it grew 0.7 percent in the first quarter. Much of the unexpected drop is attributed to the effects of the crisis in Ukraine that has led to a tough 'sanctions war.' Even after the disappointing second quarter, Germany believes it will achieve 1.8 percent growth this year. By contrast, the UK, which is not part of the euro currency zone, showed its strongest quarterly economic growth in 6 years, with 0.8 percent in the second quarter.
In July German businesses began to send clear signs they are suffering from the political standoff with Russia – one of its key economic partners.
German Chancellor Angela Merkel has confirmed that the growth of the country's economy has been hit by the crisis in Ukraine.

"There are, however, some uncertainties - I don't want to conceal that - the whole Ukraine-Russia situation shows that we of course have a big interest in our international relations being constructive again," Merkel is cited by Reuters.

But the Chancellors stressed that she still thought the overall annual growth rate of the economy would be "good, if nothing dramatic happens."
German sports retailer Adidas said it would speed up efforts to close stores in the Russian and CIS markets in 2014 and 2015. Carmaker Volkswagen, that's also Europe's biggest manufacturer, said it sold eight percent fewer vehicles in Russia in the first two quarters compared to last year.
Russia is Europe's third-largest trading partner, in 2013 trade between Germany and Russia was €76.5 billion.
Germany's exports to Russia may go down by 25 per cent this year, the union of leading associations representing German businesses said in a statement.
"It is possible that by the end of the year our exports to Russia will decline by 20-25 per cent. It will affect some 50,000 workplaces in Germany," Eckhard Cordes, the chairman of Germany's Committee on Eastern European Economic Relations, stressed.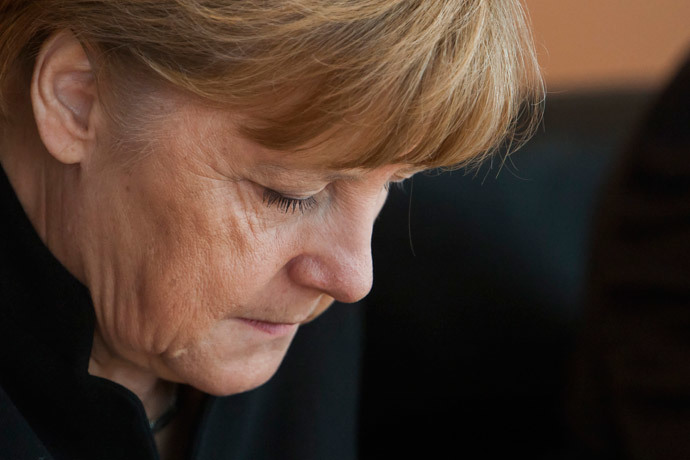 The main reason for the Eurozone's poor GDP growth are the sanction imposed by the EU against Russia, Michael Mross, chief editor of MMNews.de website, told RT.
"When you take, for example, the big German companies – almost every big German company has close business ties with Russia… Everybody is suffering more or less. In the end of the day, this has not only psychological effect, but a business effect," he said.
Russia is a large market for not only Germany, but for all European markets, which is why it is important to keep relations functional.
"We have a enough problems here in the Eurozone. And this is something we don't need. And if you speak to business leaders behind closed doors – they're all against these sanctions," Mross added.
'Stunningly destructive' austerity policies
Many have voiced concerns over Germany's push towards economic austerity, a Spartan-spending effort to re-balance the eurozone. In the spring, many of the so-called 'Euro-skeptics' won in the European parliamentary elections.
On Monday, the French government resigned just four months after it was formed after the May elections.They quit after ministers attacked President Francois Hollande's plans for taxation and cuts, and over a major disagreement with Germany's austerity program.
France, which as long stood with Germany politically, decided to put an end to unpopular austerity policies back in May.
Not only politicians doubt the direction over the 18-nation currency union. Europe is still shaking off its seven year recession, which has brought economic growth to a standstill and unemployment to record levels. Recovery has been described by Nobel Prize winning economists as both "stunningly destructive" and a "dismal failure."
You can share this story on social media: