Euro is 'island of stability' - Draghi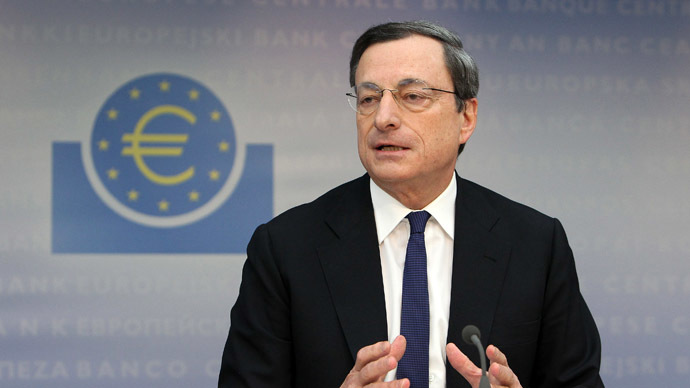 European Central Bank (ECB) head Mario Draghi said the euro currency is "an island of stability" even though growth in the eurozone is slow and unemployment is still rampant.
The eurozone is on a path of "modest recovery" Draghi said on Thursday following the bank's monthly meeting, in which it decided to keep interest rates at the record low of 0.25 percent despite rising fears of deflation.
"The euro is an island of stability," he said in comments after the meeting in Frankfurt, Germany. 'It has to go back to being also an island of prosperity and job creation but certainly it is an island of stability."
The eurozone's 9.5 trillion euro economy is still emerging from the longest recession since the introduction of the single currency.
The Frankfurt-based bank expects 1.2 percent growth for 2014, however, most analysts are disappointed with the speed of recovery, as high unemployment and austerity measures continue to plague real growth. Across the euro zone, GDP contracted by 0.4 percent in 2013.
Record low interest rates have failed to inspire growth in the 18-member eurozone, which is just emerging from recession. Also, the interest rates apply to all member states, which are recovering at different speeds and strength. The larger economies - Germany, France, Italy - expanded, while indebted southern economies like Greece and Cyprus continue to suffer.
Inflation is dangerously low, currently at 0.8 less than half the 2 percent target range.
Inflation for 2014 is forecast at 1.0 percent and set to increased to 1.3 percent in 2015 and 1.5 percent in 2016 – all three figures are risky for cutting interest rates.
No 'easy money' yet
The 24-member ECB governing council also opted out of US-style quantitative easing stimulus, which would inject 175 billion euro ($240 billion) into the economy.
Mario Draghi said the bank preferred not to use the US model because the benefits are "relatively limited".
This extra cash liquidity measure in the banking system is known as suspending sterilization.
"The suspension of sterilisation ... is one of the instruments that is in our list, but we didn't see any development in the money markets that would lead to that unwanted tightening of monetary conditions that would justify the use of this instrument," Draghi said on Thursday.
Releasing billions of euro into the economy would add more slack to the economy and could help knock down interbank lending rates. However, Germany argues the bloc-wide bond-buying policy "infringes" on the rights of individual nations.
"So the injection of the liquidity would really last only a relatively short time, less than a year for sure," Draghi added.
You can share this story on social media: