'Losing momentum': ECB cuts interest rate to new record low of 0.05%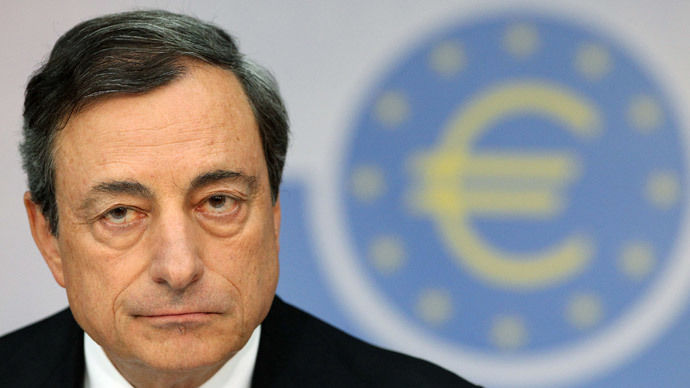 The European Central Bank unexpectedly cut interest rates to 0.05% from 0.15% in a strong response to combat deflation. The move comes as the EU is struggling to boost its stagnating economy.
"Growth recovery was losing momentum," ECB President Mario Draghi said at the news conference after the announcement was made to cut rates further.
The ECB's main refinancing rate has been cut 10 basis points to 0.05 percent, its marginal lending facility was decreased 10 basis points to 0.3 percent, and its deposit facility decreased 10 basis points to stay in negative territory at -0.2 percent.
"The main reason is to make sure there are no misunderstandings that we've reached the lower bound. Now we are at the lower bound," Draghi said.
Mario Draghi explained that the ECB decided to cut the rate in response to seeing inflation expectations worsen in August. Inflation is dangerously low, currently at 0.3 percent less than half the 2 percent target range.
Draghi announced the bank has trimmed its GDP forecast for the 18-member eurozone to 0.9 percent in 2014 and 1.6 percent in 2015.
The ECB president said quantitative easing was discussed, but there was no agreement between governing council members to begin stimulus bond purchases.
The benchmark refinancing rate is the amount banks pay the ECB for credit, and the lower the rate, the more customers and businesses are incentivized to borrow, spurring lending and growth.
Draghi: QE was discussed

— ECB (@ecb) September 4, 2014
Draghi said that the governing council has agreed to use 'unconventional' monetary measures if needed, but a shift towards a US-style quantitative easing program was not announced, and will again be discussed at the next meeting on October 2.
The bank has agreed to start buying non-financial assets.
The Frankfurt-based bank has previously discussed injected €175 billion ($240 billion) into the eurozone economy. Reuters has reported the amount could be as large as $500 billion.
Here is the full press statement by the ECB: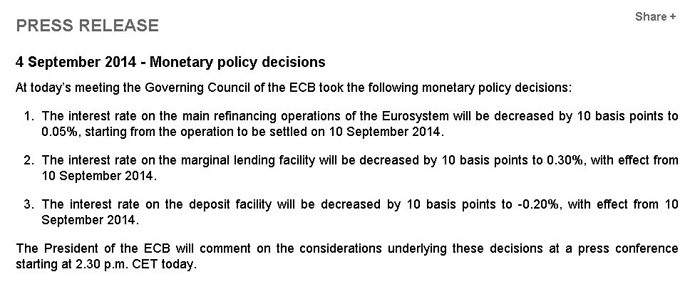 The announcement sent the Euro sinking against the US dollar, which fell nearly 1 percent to under $1.31 against the dollar.
European Central Bank cuts interest rates; Euro falls http://t.co/YdScIhQ2NP#ECBpic.twitter.com/4c5Q5PzQI2

— Yahoo Finance (@YahooFinance) September 4, 2014
Record low interest rates have failed to inspire growth in the 18-member eurozone, which is just emerging from recession. Also, the interest rates apply to all member states, which are recovering at different speeds and strength. The larger economies - Germany, France, Italy - expanded, while indebted southern economies like Greece and Cyprus continue to suffer.
In June, the ECB first crossed the zero threshold on interest rates when it cut the deposit rate to minus 0.10 percent. It was the first time any major central bank has set a negative interest rate.
You can share this story on social media: