German economy in 'choppy waters', as growth forecast slashed to 1.2%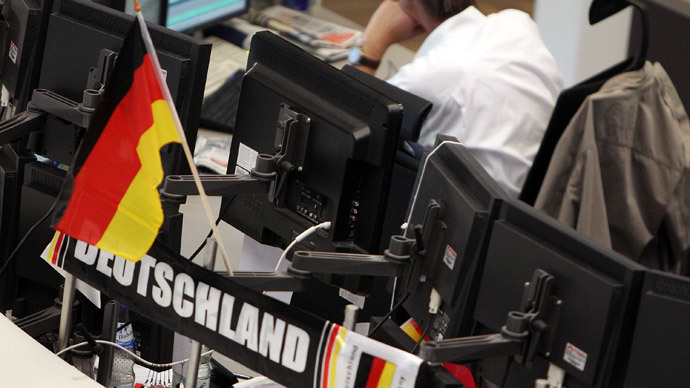 The German Ministry of Economic Affairs has slashed its forecast of growth this year to 1.2 percent, which is mounting evidence that Europe's biggest economy is losing steam.
The numbers released Tuesday are a significant downward revision from the 1.8 percent growth expected earlier in the year. Growth for 2015 was also revised down to 1.3 percent from 2 percent, the ministry said.
"The German economy is in choppy waters concerning foreign trade," Sigmar Gabriel, Minister for Economics and Energy, said in a statement. Better growth will largely depend on international factors improving, he added.
The continuing standoff with Russia over Ukraine that turned into a so-called 'sanctions war' with the West is eroding growth everywhere, the ministry statement said.
The GDP report was released on the same day as the closely watched ZEW economic sentiment survey showed that businesses in the country are growing more pessimistic about the future. The indicator turned negative in October, to minus 3.6, which is much weaker than the average forecast of 0.8 expected by the Wall Street Journal.
Sentiment in the survey over current conditions also dropped to 3.2, compared to 25.4 in September.
Last week a number of key German economic indicators, such as industrial production and exports, showed that the economy was heading towards contraction.
READ MORE: Powerhouse Germany gets own spoonful of austerity
The country's leading economic think tanks also said they expect weaker growth in 2014 and next year, as both domestic demand is weakening and the EU is slowing. They said Germany is set to grow 1.3 percent this year and further slowdown to 1.2 percent in 2015.
Last week an International Monetary Fund report raised the likelihood of eurozone recession to almost 40 percent from just over 20 percent in April.
READ MORE: Germany's energy industry a disaster - France's EDF chief