EU forks out further €165mn in aid to farmers hit by Russian sanctions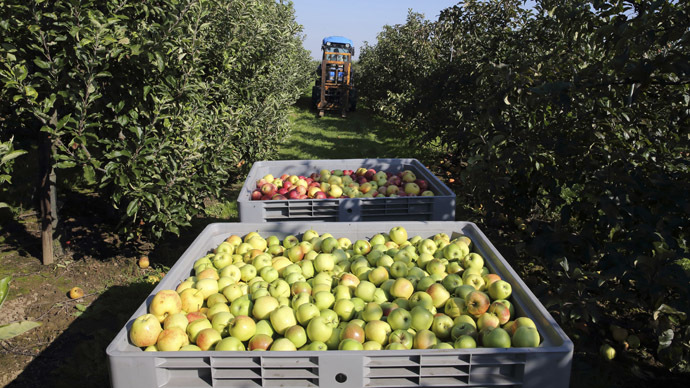 The EU has announced emergency funding for perishable fruit and vegetables hit by Russia's EU food ban as part of efforts to help cover part of the farmers' losses that are estimated at billions of euros.
The cash strapped European Commission has stumped up €165 million ($209.4 million) to help fruit and vegetable farmers hit by the Russian food ban, officials said Monday.
"I am pleased that the Commission has managed to mobilize a further €165 million to help ease the market pressure for fruit and vegetable growers following the Russian ban," Dacian Cioslos, the EU's agricultural minister, said in a statement. He added that the financial package would provide "short-term relief."
The €165 million is in addition to €125 million announced in August. The August package was suspended on 10 September because of the EU's full budget for that period had already been allocated.
The new plan includes products like pears, apples, cucumbers and carrots. It will run until the end of the year and is estimated to cover up to 400,000 tons of products.
Drop in the ocean
The amount is based on the average exports to Russia during the last three years for the period since the food ban was announced. Amounts have been deducted to take into account of volumes which have already been claimed under the initial €125 million euro scheme.
The true amount of losses that EU farmers will have to bear is difficult to accurately calculate as some will be able to find other markets for their products, while some will find it more difficult.
In August Vygaudas Usackas, the EU's ambassador to Russia, estimated that Europeans could lose as much as $12 billion from the Russian ban.
READ MORE: EU farmers complain €125 million compensation is just drop in ocean
Figures are not yet available on how much money EU farmers have lost since August 7, when Moscow imposed the trade ban. On average EU farm exports to Russia were worth about €11 billion a year, which is equivalent to ten percent of all EU agricultural sales.
It will be easier to find new markets for some produce than others. The Russian ban is to last for a year, but if sanctions drag on, then farmers may be forced to start growing other products. But for framers growing fruit such as apples and pears, this will be much harder as trees take about six years before they produce.
Meanwhile other countries are queuing up to fill Russian shelves, such as Turkey, China and South American states, which are unaffected by the tit for tat sanctions.
READ MORE: Russia's import ban means big business for Latin America
Russia declared a yearlong ban on meat, fish, dairy products as well as fruit and vegetables from the European Union and other Western countries, in retaliation for targeted economic sanctions on the financial, energy and defense sectors over Moscow's actions in Ukraine.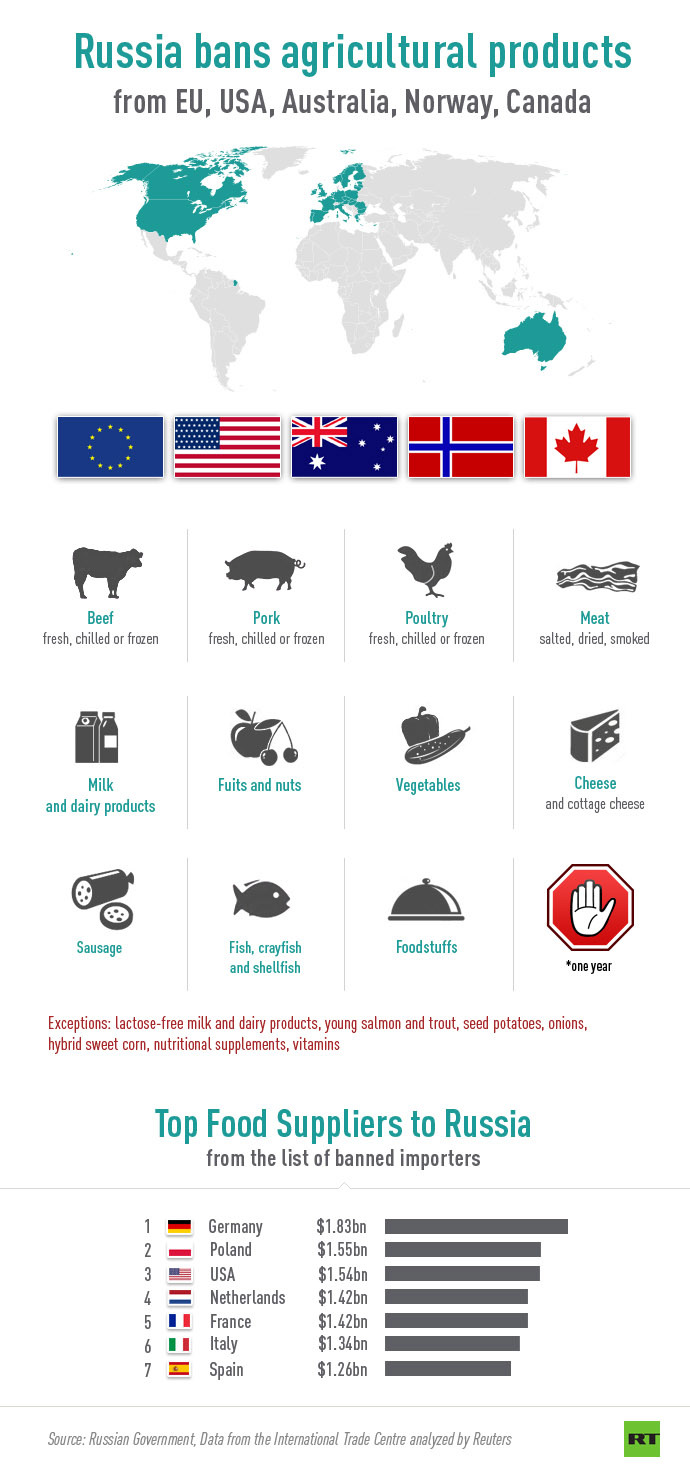 You can share this story on social media: