EU farmers complain €125mn compensation is just drop in the ocean
The €125 million in emergency EU support to its food producers may not be enough to cover the damage, as some estimates have it more than a hundred times higher.
On Monday, the European Commission announced €125 million in emergency funding for European farmers hit by the Russian trade ban
Economists at ING estimate the embargo could cost the European Union €6.7 billion ($9 billion) during a year of lost production. The report also sees 130,000 jobs at risk in the trade row between Russia and the West over Ukraine.
The European statistics office, Eurostat, said the ban - which bars meat, dairy, cheese, fruit and vegetables from all 28 EU member states, affects €12 billion ($16 billion) worth of EU exports, or 10 percent of the total.
Hit hardest will be Poland and Norway, both of which export over $1 billion in sanctioned foods to Russia, followed by the Netherlands and Spain, both which have strong trade ties with Russia.
Spain already estimates it will miss out on €337 million in food and agriculture sales due to blocked access to the Russian market. The value of sanctioned food exports to Russia is $792 million, according to Russian Federal Customs data.
In Zaragoza, Spain, fruit growers took to the streets dumping out excess produce and torched an EU flag.
"This price compensation is not enough. Let's say 20 jobs in our company will be lost. Our salaries will also be affected- then, we will just disappear," a Spanish fruit farmer told RT.
Exporters may have to further slash prices, which have already fallen 80 percent in the fruit industry, or even throw away perfectly fresh produce that can't be sent to Russia.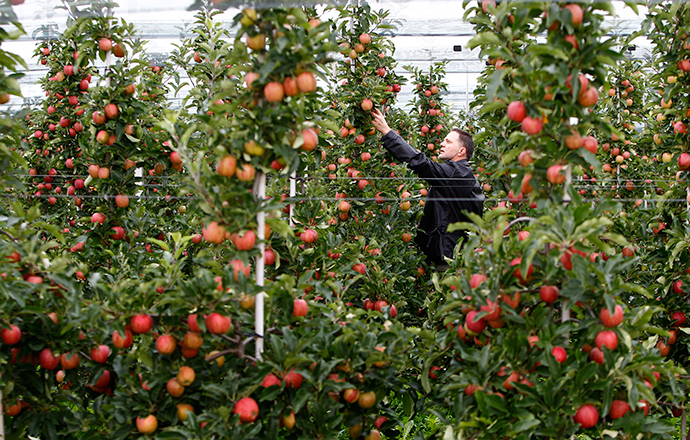 In Greece, farmers feel sanctions are putting their livelihood at stake- being shut out of the Russian market is bad for business. Producers estimate losses over fruit alone will exceed €178 million in the next 12 months.
READ MORE: Russian food ban takes huge bite out of Greek fruit growing industry
"Right now we have no other market to send out produce to, other than the Russian one," Fotis Kyriazis, President of the Irmini Agricultural Cooperative, told RT.
"I don't think anyone will compensate us for our losses. Neither Greece nor the EU has the money to compensate us," Kyriazis said.
The worst-hit countries have already tried to bypass the restrictions by sending goods via Belarus, but were stopped by Russia's consumer watchdog.
Poland, which before the ban exported 50 percent of its apples to Russia, is feeling the sanctions biting back and is hoping to launch a complaint with the European Commission and World Trade Organization.
"The ban has caused horror among Polish producers of fruits and vegetables. We have to tighten our belts and get production costs back at the very least," Jacek Izyucki, Trade Branch President of the Agrostar Company in Poland, told RT.
"Obviously some unintelligent political decisions were made and brought harm for all," Izyucki said.
You can share this story on social media: