​Russian food ban takes huge bite out of Greek fruit growing industry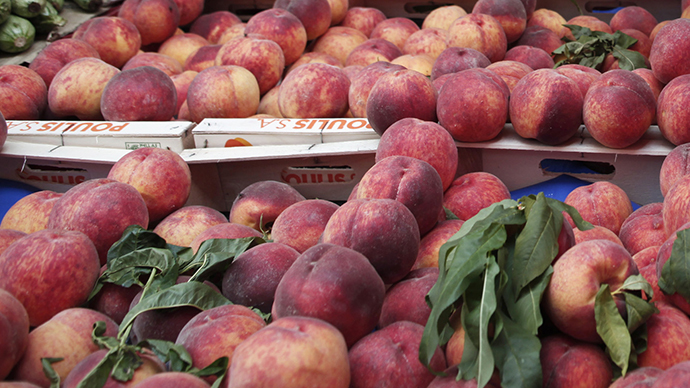 Greek farmers say the Russian food embargo has already dealt a devastating blow to the country's agricultural economy, leaving at least 3.5 million kilograms of peaches rotting in refrigerated trucks after being turned back at the Russian border.
"There are around 3.5 million kilos of peaches currently rotting in trucks, and at the height of the summer another 3.5 million kilos have yet to be harvested," the Guardian quotes Apostolos Keranis, head of the Federation of Greek truckers. "We're talking about huge, huge damage."
Russia buys more than 60 percent of Greek peach exports, and almost 90 percent of strawberries, says Christos Yannakakis, the president of Greece's largest regional association of growers and cooperatives.
Approximately a tenth of European agricultural exports go to Russia, which is worth around €11 billion a year, according to European Commission data.
Russia is Greece's biggest trading partner outside the EU with total turnover exceeding €5.7 billion in 2013, figures from the Hellenic Statistical Authority show.
Greek producers estimate losses from fruit and conserves exceeding €178 million over the course of the year.
Producers say around 15,000 families living in the fruit growing regions of northern Greece survive on the industry.
According to Christos Yannakakis, it is hugely important the EU offers help, otherwise the agricultural economy will collapse.
You can share this story on social media: