Iraq exodus? Oil majors withdraw staff as terror threat rises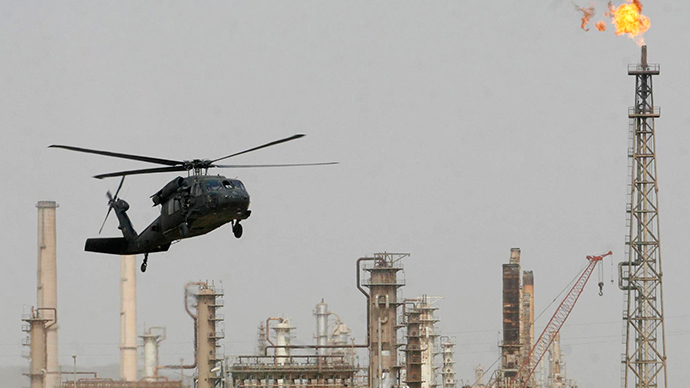 BP and ExxonMobil have both ordered staff to leave Iraq, and China is considering pulling some of its 10,000 workers from projects following the turmoil caused by jihadist rebel group ISIS, which has rocked the country and threatened security.
Exxon is plucking 20 percent of its staff, mostly foreigners, from Iraq fearing the Sunni rebel group ISIS, a breakaway Al-Qaeda group, could target oilfields and refineries in their terror sweep. An official from Iraq's state-run South Oil Company confirmed this on Wednesday.
#BP, #Exxon Mobil evacuate most staff from #Iraq - Oil Ministry Official http://t.co/AyiT5o2Ogv@BP_plc@exxonmobilpic.twitter.com/llNObWowwa

— Iraqi News - Iraq (@IraqiNews_com) June 18, 2014
BP has shipped out all non-essential employees from the Rumaila field in the south and Exxon has been evacuating staff from the West Qurna 1, also in the south.
Royal Dutch Shell, which has played a large role in revamping the country's oil industry, announced it hasn't evacuated any employees yet, but has a plan if need be, according to the chairman Hans Nijkamp. Shell has invested billions in the Majnoon oil field, which is just east of West Qurna 1 and II.
China, the world's fifth largest importer of crude, is also preparing a contingency plan for a worst-case situation, recalling thousands of workers stationed in the south of the country, where unrest could spread.
"As of today, most Chinese workers have gone to work as usual. But if insurgents begin to attack Baghdad, we will pull out of the country immediately," an employee of the Chinese state owned energy giant China National Offshore Oil Corp. (CNOOC) told the Global Times newspaper.
According to the Iraq Oil Ministry 90 percent of the country's oil is safe from attacks, but in case, 100,000 police are tasked with protecting oil facilities.
Iraq is home to the world's fourth largest oil reserves, which are estimated at over 150 billion barrels. Daily output reached an all-time higher earlier this year, pumping 3.5 million barrels per day.
Many of Iraq's main oil fields are in the southern regions, which are predominately Shi'ite, the main target of the group.
ISIS, a jihadist rebel group that seeks the creation of an Islamic Iraq and Syrian state, is making significant territorial advances having taken Iraq's second largest city and is pushing towards Baghdad.
The US has mentioned it may team up with long-time diplomatic foe Iran in order to combat the insurgents in Iraq.
Oil prices have spiked as the Jihadist rebel group has swept over several regions in the country. At the time of publication on Thursday, August futures for Brent crude jumped to $114.26 per barrel, after large gains on Wednesday.
ISIS militants launched an attack on Iraq's largest oil refinery with mortars and machine gun fire, according to reports.The refinery process about 300,000 barrels per day and supplies the northern regions with oil and was a key strategic goal the US took over in its 2003 invasion of Iraq.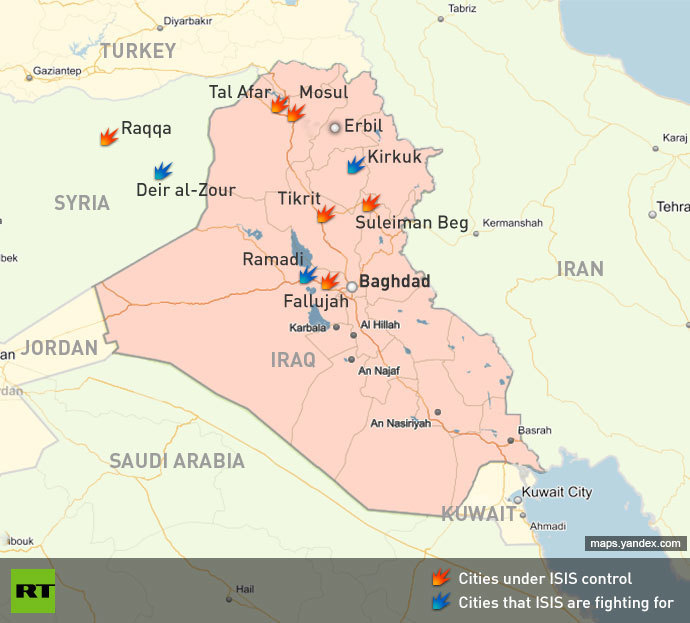 Italy's ENI, France's Schlumberger, Swiss-based Weatherford, and Baker Hughes, the third largest oil and gas service company in the world, are all rumored to be considering similar exits, Reuters reports.
Gazprom Neft, an arm of Russia's largest producer of natural gas, owns a 30 percent stake in the 300 million barrel Badra deposit, situated near the Iranian border. The company announced on Tuesday it is experiencing "no problems" in Iraq, despite the outbreak of violence and plans to start supplying gas from the field at the end of June.
Lukoil, Russia's largest independent oil company also has significant stakes in the region, including a stake in the hard to reach crude in West Qurna II.
You can share this story on social media: