US preparing for direct dialogue with Iran over ISIS threat in Iraq – report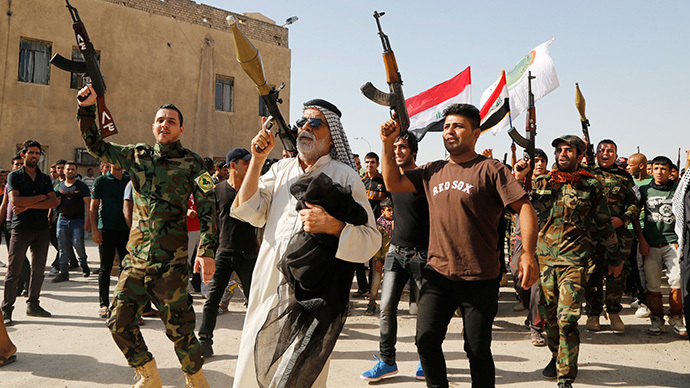 The US is getting ready for an open dialogue with Iran to discuss Iraq's security concerns and ways of responding to radical Sunni militia that have been gaining ground in western Iraq, The Wall Street Journal quoted senior US officials as saying.
Follow RT's live updates on the situation in Iraq
The talks are likely to begin as early as this week. This unlikely cooperation is to take place as world leaders try to negotiate an agreement with Iran to curtail its nuclear program.
Iraq's security concerns are the central aspects common to both parties. Radical Sunni militants of Al-Qaeda offshoot the Islamic State in Iraq and the Levant (ISIS/ISIL) have been advancing and capturing cities in the northwest of Iraq. The jihadists have declared the capture of the capital Baghdad as their top objective.
It is not yet clear which diplomatic channel the Obama administration will be using, the report said.
Reuters also cited a senior US official as saying that Washington is considering the discussion with Tehran.
One option for the US is to go through Vienna, where US and Iranian officials are scheduled to meet with other world powers to discuss Iran's nuclear program. Earlier, the US State Department announced that the No. 2 US diplomat, Deputy Secretary of State Bill Burns, will be going to Vienna to participate in those talks.
US Senator Lindsey Graham stated on Sunday that Washington needs Iran to avoid a government collapse in Iraq. "We are probably going to need their help to hold Baghdad," Graham told CBS' 'Face the Nation.'
Iran has also spoken out in support of cooperation. Iranian President Hassan Rouhani said on Saturday that Tehran may consider cooperating with Washington to battle the extremist threat.
"We have said that all countries must unite in combating terrorism. But right now regarding Iraq we have not seen the Americans taking a decision yet," Rouhani said at a press conference.
When asked if Tehran would work with its old adversary the United States in tackling advances by Sunni insurgents in Iraq, Rouhani replied, "We can think about it if we see America starts confronting the terrorist groups in Iraq or elsewhere."
You can share this story on social media: