ISIS, Inc. – Jihadists attract investors, fighters with annual reports & glossy PR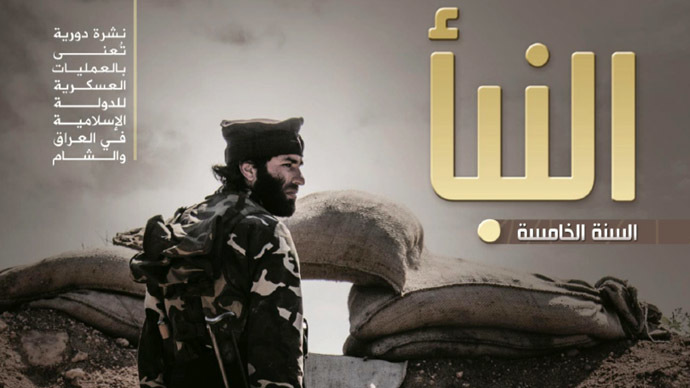 The notorious ISIS, which has been slicing through Iraq moving closer to Baghdad, behaves like a big corporation, issuing press releases to create an image of a well-structured, disciplined and effective organization to attract investors and new members.
The Islamic State of Iraq and Syria (ISIS/ISIL), which has made lightning advances against government forces seizing key cities, is determined to sweep towards Baghdad, prompting the Iraqi government to request US air support.
The United States however is reportedly ill-prepared to wage such attacks due to lack of intelligence on ISIL operations following its lightning advance. US military's Joint Chief of Staff, Dempsey, says that although "it is in our national security interest to counter ISIS" the results of US involvement would be unknown "until we can clarify this intelligence picture" in Iraq.
Follow RT's LIVE UPDATES on ISIS offensive in Iraq
In just a few days ISIS fighters have almost reached the Iraqi capital, killing scores of people along the way. During the US-led invasion of the country it took the allied forces 22 days to reach Baghdad.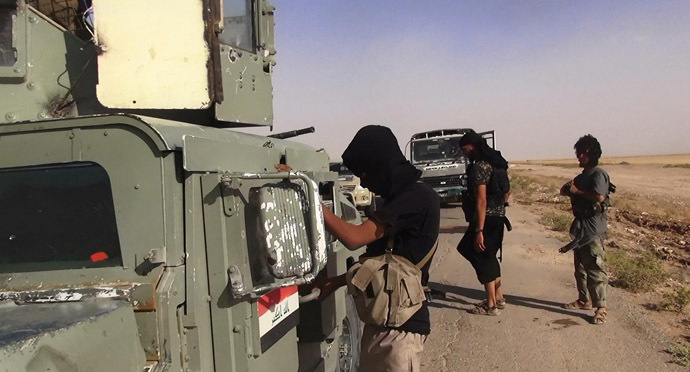 ISIS emerged back in 2004 following the chaos of invasion from radical Sunni jihadists, whose main objective is to establish an Islamic caliphate based on Sharia law. Manipulating religions tensions in the country between Shias and Sunnis, they were able to unite followers of Saddam Hussein Ba'ath party, a Sunni dominant force. By 2011, ISIS militants regrouped after Nouri al-Maliki's government released high-profile members of the militant movement.
Today ISIS claims to have over 15,000 fighters most of who are thought to be from neighboring middle eastern countries, but around 2,000 are believed to have come from Europe, including Britain.
In the militant's own assessment, found in an annual report called al-Naba, or "the news", ISIS boasts of its destructive force. A regurgitated version of the report, covering the period of November 2012 to November 2013, is offered by the US-based Institute for the Study of War (ISW).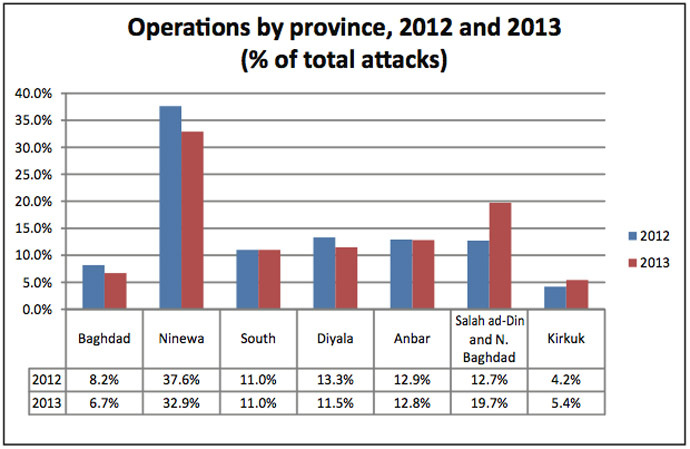 Originally in Arabic the 400 page long document was initially published by the I'tisaam Media Foundation. It is also the second known ISIS release advertising their bloody rampage in Iraq.
ISIS claims to be responsible for 9,540 operations in Iraq, 1,083 assassinations and freeing hundreds of radicals from prisons in Iraq. Having a force of at least 15,000 fighters under its command, ISIS also planted 4,000 improvised explosion devices and freed hundreds of radical prisoners. In comparison to the previous report, the figures in each category have almost doubled. The category of "Apostates repented" was also added, underlining ISIS's perceived religious conquest.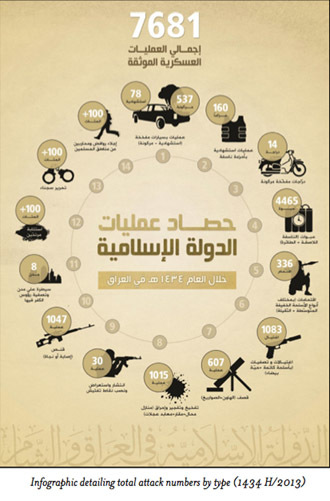 The US-NGO notes that the operating areas listed in 2012 and 2013 report are consistent, suggesting that "from its resurgence through to 2014, ISIS has possessed a reporting structure for subordinate units in the full range of operating areas."
The Institute for the Study of War summary also claims that "From the period of April 2013 through to the present, ISIS has been operating in Syria as well, though the distinctions between their military operations in Iraq and Syria is the subject of ongoing study at ISW."
In its conclusion, the institute believed the organization is making several nation-wide changes to its tactics. "This is a strong indication of a unified, coherent leadership structure that commands from the top down."
The report has been described as "almost like a company with details of martyrdom operations and targets," by Nigel Inkster, former assistant chief of UK intelligence service MI6, in an interview to the Financial Times. "You have a clear overlay of structure, planning and strategy to the organisation."
The US which officially left Iraq in December 2011, now has a strong internal political force which views ISIS in Iraq and Syria as danger not only to the stability of the Middle East, but also to US national security.
Congressman Michael McCaul, chair of the Homeland Security Committee, said sources familiar with the situation have described the success of ISIS as the "greatest national security threat since 9/11."
"Al-Qaeda owns more territory, more resources, and what's happening in Iraq now is really chaotic," he told ABC news earlier this week.
As the militant offensive towards Baghdad continues, extremists are already in control of Iraq's second-largest city of Mosul, as well as the city of Tikrit.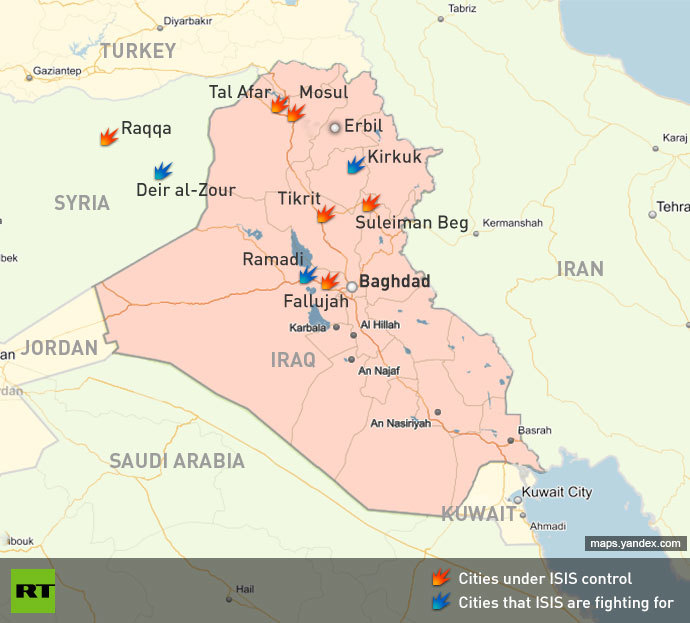 "Although it is possible that ISIS will take an operational pause in Syria to solidify its control and absorb its gains in Iraq, it is likely to move swiftly in a renewed offensive... to establish the lines of control and oil reserves within its state," ISW said in its Wednesday assessment.
ISIS with reputation for brutality including beheadings, is continuing its rampage across the war-torn state, targeting minorities.
"ISIS is an extension of Al-Qaeda. With American funds, now ISIS is killing Iraqis and planning to go for Baghdad and Iraqi Shiite shrines to settle an old score," Elijah Abraham, an Iraqi Christian evangelist told Baptist Press. "Since 2009 with President Obama's policies in the Middle East, there has also been a systematic cleansing of Christians in the Middle East."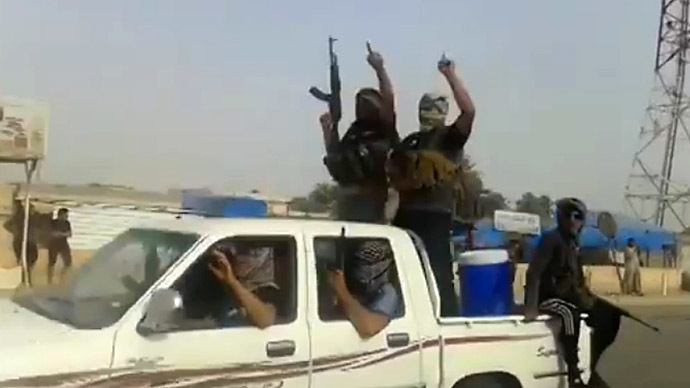 Earlier this week ISIS published photos on jihadist internet sites allegedly showing mass executions of captured Iraqi forces. A caption on several photos read "Apostates heading to their hole of doom."
Washington which spent $25 billion to train Iraq's security forces over the years, according to a report by the special inspector general on Iraq, now finds itself at ground zero – Islamists are taking over Iraq.
"This is a nightmare that has come back to haunt it [USA]. Practically any movement it makes, it will be wrong, in a sense that it angers somebody. And US has more interests in the Sunni world than it does in the Shia world. Behind the scenes, the Saudis, the major Sunni power are very unhappy with the thought of US intervention," award winning journalist Eric Margolis told RT.
Sharia Law Imposed In Iraq By ISIS Jihadists Bent On Implementing An Islamic Caliphate http://t.co/E4jO7OSAHApic.twitter.com/hCbDDfNpQg

— Sean (@RevolutionUK_) June 13, 2014
You can share this story on social media: