ISIS 'execute' 1,700 Iraqi soldiers, post gruesome pictures (GRAPHIC)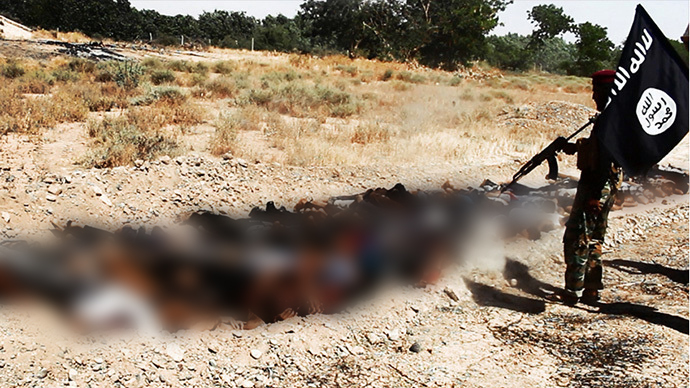 Radical Sunni militants who have been capturing cities in northwest Iraq claimed on Twitter that they executed 1,700 Iraqi soldiers. The radicals posted graphic photos as evidence.
Follow RT's live updates on the situation in Iraq
The photographs, which were posted on the Twitter account associated with the Islamic State in Iraq and the Levant (ISIS/ISIL), came with captions that described their alleged massacre. They did not provide a date or location, but chief military spokesman Lt. Gen. Qassim al-Moussawi said the killings took place in Salahuddin province, located north of Baghdad.
Some of the images show dozens of captured men in civilian clothes loaded onto trucks, with the captions saying that they were taken to their deaths.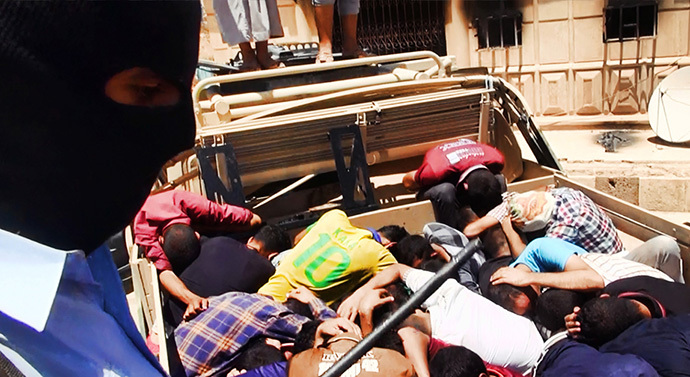 Another image shows men lying down in a ditch with their arms behind their head. Some of the final photographs show bodies covered in blood with several gunshot wounds.
It is impossible to independently verify the photographs and the number of people killed.
Lt. Gen. Qassim al-Moussawi, confirmed the photos' authenticity on Sunday, adding that he is aware of mass executions of captured Iraqi soldiers in areas controlled by ISIS.
Following the analysis of the images by military experts, it was concluded that about 170 soldiers were shot to death by the militants, he told the Associated Press.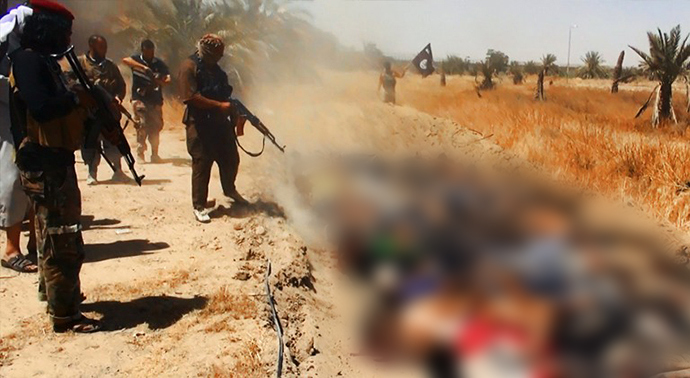 Violence continued to escalate in Iraq on Sunday, with local residents telling to Reuters that ISIS insurgents attacked and took control of the town of Tal Afar, located in northwestern Iraq.
Iraqi Gen. Mohammed al-Quraishi confirmed to CNN that the city fell to Sunni rebels. Tal Afar is located in the Nineveh province and has a population of about 80,000 people, most of whom are Iraqi Turkmen.
Meanwhile, the US announced it will be increasing security at its embassy in Baghdad and moving some of its personnel out of the capital. Less than 100 US Marines and other military personnel are headed to Iraq to reinforce security at the US embassy in Baghdad, Reuters reported, citing a military official.
The Australian Department of Foreign Affairs and Trade (DFAT) also said that a number of embassy staff were withdrawn from Baghdad on Sunday. "The Australian embassy remains open with reduced staffing levels," DFAT stated. "We are unlikely to be able to provide consular assistance in Iraq at the current time."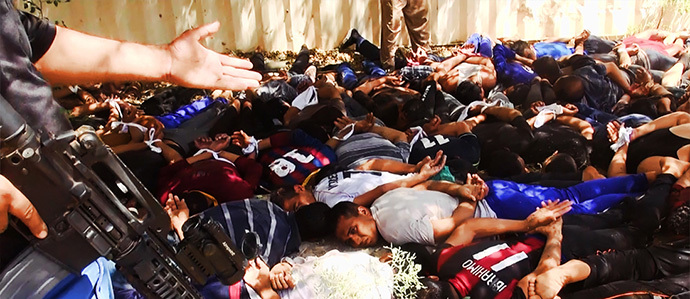 Earlier, ISIS insurgents seized Iraq's second-largest city of Mosul in the north of the country as well as Tikrit – the capital of Salahuddin province, where the alleged massacre of soldiers took place.
UN High Commissioner for Human Rights Navi Pillay said Friday that the organization received a number of reports of "summary executions and extrajudicial killings" as ISIL militants raided Iraqi cities. The number of people killed last week may be in the hundreds, she added.
Once an offshoot of Al-Qaeda, ISIS fell out with the global terrorist network. The hyper-fundamentalist group, which is active in Iraq and Syria, gained notoriety for its ruthless tactics which include publicly crucifying and beheading those who violate their strict religious interpretations.
Iraq came under the influence of a Shia-majority government after the US-led invasion toppled Saddam Hussein's Sunni-dominated regime in 2003. Since the withdrawal of US troops in 2011, sectarian tensions have boiled over, resulting in Sunni insurgents increasingly waging war against the central government.
You can share this story on social media: