Senegalese president names coalition candidate for elections
Macky Sall's decision to nominate his PM "didn't receive unanimous support," political scientist Ogo Seck told RT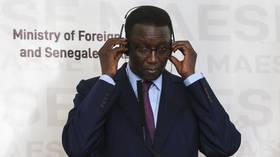 Senegalese President Macky Sall has chosen Prime Minister Amadou Ba as a candidate for the upcoming February 2024 presidential election. He received formal approval for the nomination on Saturday during a meeting of the ruling Benno Bokk Yakaar (BBY) coalition which was broadcasted live on national television.
In a nationwide address in July, the chief executive announced that he would not seek a third term. Violent opposition protests in Senegal had been fueled by the uncertainty over whether he would seek a third term.
Sall is the first Senegalese president to choose to limit himself to two terms by voluntary means. According to the Senegalese Constitution, the president can only serve two terms. In 2012, he was elected for a seven-year term and again in 2019 for a reduced five-year term due to a constitutional overhaul.
After Ba was announced as the coalition's flag bearer on Saturday, Agriculture Minister Aly Ngouille Ndiaye, who was one of the candidates for the inauguration, announced his resignation from the government, per media reports.
Speaking to RT on Tuesday, Ogo Seck, a political scientist and professor at Gastenberger University, said that Sall's decision to nominate his prime minister "didn't receive unanimous support."
Seck said there were 12 other candidates from the ruling coalition, with some of them unable not participate in the elections for legal reasons, which influenced the president's decision to nominate Ba. The expert recounted the violent moments in Senegal in June when people were wounded and killed, which has left "a mark on the political life of the country over the past few months."
He also added that "there is a risk of tensions" because if a candidate doesn't take part in the elections "certain problems may arise."
You can share this story on social media: