Senegal's president rules out third-term bid
The head of state's decision helped ease tensions and brought peace to Dakar, a political analyst told RT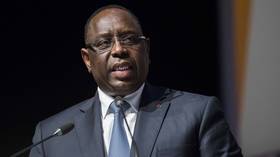 The President of Senegal Macky Sall announced on Monday that he will not run for re-election, essentially ending his decade-plus rule. Months of uncertainty over whether he would seek a third term have fueled violent opposition protests in the West African country.
"My dear fellow citizens, my decision after long consideration is to not be a candidate in the election on February 25, 2024," Sall said, in a speech shared live on his Facebook account.
Ahead of the president's announcement, opposition leader Ousmane Sonko had urged for new protests in case Sall decided to run for re-election in February 2024.
However, the public has broadly welcomed the leader's decision, hailing it as "wise."
Political analyst Elimane Kane told RT that Sall's announcement had "eased tensions and brought peace" to Dakar, where unrest in the previous month had claimed at least 16 lives, according to authorities.
"I think that the president's decision is a pleasing act for the country," Kane said.
He expressed hope that the outgoing leader will devote his final months to getting Senegal back on track, allowing his successor to continue working to improve Senegalese democracy.
Sall, 61, has been Senegal's head of state since 2012, when he defeated his 85-year-old predecessor, Abdoulaye Wade, who himself was running for a third term.
Wade's re-election was widely opposed, despite the former French colony's highest court approving of his candidacy.
You can share this story on social media: