Niger's neighbors set 'D-Day' for intervention
ECOWAS is ready to "restore order" in Niamey "if all else fails," a senior official has said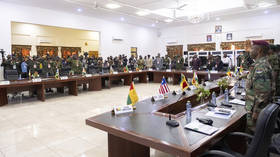 The military chiefs of the Economic Community of West African States (ECOWAS) have decided on a date for sending troops into Niger, the bloc's commissioner for political affairs, peace and security, Abdel-Fatau Musah, said on Friday.
"We are ready to go anytime the order is given," Musah told reporters after a two-day meeting of the bloc's Committee of Chiefs of Defense Staff in Accra, Ghana. "The D-day is also decided. We've already agreed and fine-tuned what will be required for the intervention."
"Let no one be in doubt that if everything else fails, the valiant forces of West Africa, both the military and the civilian components, are ready to answer to the call of duty," Musah said.
Speaking at the closing ceremony of the military meeting, Musah brought up previous ECOWAS deployments in Gambia and Liberia as examples of successful intervention, and vowed that "constitutional order will be restored" in Niger "by all means available." The bloc was also preparing a "mediation mission" to Niamey, he added, in order to give diplomacy a chance.
Earlier this week, the ECOWAS military chiefs announced they had "commenced the activation of the Standby Force" for intervening in Niger, where the military ousted President Mohamed Bazoum on July 26.
ECOWAS initially gave Niamey a seven-day deadline to restore Bazoum, said it had "finalized plans" for intervention on August 4, and announced the activation of the Standby Force force on August 10. According to the French broadcaster RFI, the bloc is mustering about 25,000 troops, mostly from Nigeria and Senegal.
Not all members of the bloc are on board with intervention. Chad and Guinea have opposed both sanctions on Niger and military deployment. The military governments in Burkina Faso and Mali said they would regard any military move against Niamey as a declaration of war against themselves.
Niger has accused ECOWAS of acting as the proxy of France, the country's former colonial ruler. Speaking on Friday, Musah insisted that the bloc is a "rules-based organization," ready to intervene alone or with support of "other democracy-loving partners."
Niger's uranium mines provide a substantial amount of fuel for France's nuclear reactors. Paris has 1,500 soldiers based in the country, which the new government in Niamey wants gone. The US has another 1,000, likewise declared unwelcome. They were deployed to fight against a variety of terrorist and insurgent groups that arose in the Sahel in the aftermath of NATO's 2011 "regime change" intervention in Libya.
In recent years, the military governments in Mali and Burkina Faso have ordered all Western troops to leave, turning to the Russian Wagner Group for security services instead.
You can share this story on social media: