Niger's neighbors approve military intervention
The West African ECOWAS bloc has activated a standby force to use against the junta that took power last month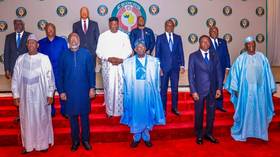 West African governments have taken the next step in trying to force the junta that took power in Niger last month to reverse its coup, ordering that the region's armies immediately activate standby troops for a possible intervention in the uranium-rich country.
The Economic Community of West African States (ECOWAS) ordered the force activations on Thursday and issued a statement saying it still prefers a peaceful restoration of democracy in Niger. ECOWAS had threatened to send in troops if the military government in Niger failed to restore President Mohamed Bazoum to power by last Sunday.
"No option is taken off the table, including the use of force as a last resort," Nigerian President Bola Tinubu said on Thursday after hosting a meeting of ECOWAS heads of state in Abuja. He added, "I hope that through our collective effort, we can bring about a peaceful resolution as a roadmap to restoring stability and democracy in Niger. All is not lost yet."
The ECOWAS didn't specify the size of the intervention force or which member states would participate. Suspended ECOWAS members Mali and Burkina Faso have vowed that a military intervention against Niger would be seen as a declaration of war against them. African Freedom Institute President Franklin Nyamsi warned last week in an RT interview that the bloc could trigger "a world African war" if it tries to remove Niger's military government by force.
Nigeria, Senegal, and Ivory Coast are among the ECOWAS members that have demanded a restoration of Niger's former government. Ivory Coast President Alassane Ouattara condemned the detention of Bazoum under house arrest as a "terrorist act."
At Thursday's summit in Abuja, he told reporters, "We do not accept, we will not accept coups d'etat. These putschists must go. If they don't let Bazoum out to be able to exercise his mandate, I think we should move ahead and get them out."
Niger's military government has defied the regional bloc's demands and vowed to defend the country against any foreign attack. One of the junta's leaders, General Salifou Moody, reportedly sought assistance from Russian defense contractor Wagner Group PMC, which has operated in Mali, Burkina Faso, Sudan, Mozambique, and the Central African Republic. With expiration of the ECOWAS deadline on Sunday, the junta closed the country's airspace "until further notice."
You can share this story on social media: