Niger closes airspace amid invasion threat
The African country's junta has ignored the ultimatum from Western-backed neighbors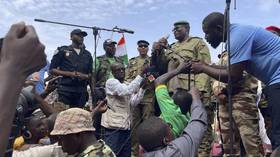 Niger's coup-imposed government has promised "a vigorous and instantaneous response" to any violation of the country's airspace.
Niamey is bracing for a potential military intervention after a deadline, set by the Economic Community of West African States (ECOWAS) to reinstate President Mohamed Bazoum to power, expired on Sunday.
"Faced with the threat of intervention which is becoming clearer from neighboring countries, Niger's airspace is closed from this day on Sunday… until further notice," the military government announced.
The statement, as cited by AFP, warned that "any attempt to violate the airspace" will result in a "vigorous and instantaneous response."
The National Council for the Safeguarding of the Homeland, which assumed power in a military coup last month, claimed that hostile regional forces have already conducted "pre-deployment in preparation for the intervention" in two unnamed countries of Central Africa.
"Any state involved will be considered co-belligerent," it added.
ECOWAS imposed harsh sanctions and issued a one-week ultimatum to the military leaders last week, threatening to send troops into Niger unless General Abdourahamane Tchiani and his cabinet of generals step down and reinstate President Bazoum.
The deadline, however, passed unheeded. Although the militaries of several ECOWAS members agreed on a plan for potential military intervention at a meeting on Friday, the bloc needs "more time" to prepare for the invasion, according to the Wall Street Journal.
"For the moment, we need to build up the strength of our units before taking part in such a military action," a senior commander from one of the ECOWAS countries told the paper.
The coup leaders enjoy considerable public support and are backed by the governments of Mali and Burkina Faso, both of whose governments seized power in a recent wave of anti-French unrest. Both countries have promised to treat any ECOWAS incursion as a declaration of war against them.
The junta has also allegedly asked Russia's Wagner private military company for assistance, but neither the Kremlin nor the Wagner Group have commented on the claims.
WHAT you're looking at is the 30,000 capacity Niamey stadium in the capital of Niger Republic, filled to overflowing with defiant and jubilant citizens who cheered and praised the new military leadership of that country as "saviors" who delivered them from the CURSE of colonial… pic.twitter.com/KaHNjh99SQ

— J. C. Okechukwu (@jcokechukwu) August 6, 2023
"We will all stand and fight as one people," senior junta official Gen. Mohamed Toumba told a thousands-strong rally in the Nigerien capital Niamey on Sunday afternoon, urging supporters to "stay mobilized."
In the meantime, Bazoum published an article in the Wall Street Journal, in which he called for Western intervention in Niger and claimed that unless the US and ECOWAS help him regain power, the Wagner private military company will have an "open invitation" into the region and all of central Sahel "could fall to Russian influence."
The US and EU have imposed sanctions on Niger following the coup, and France has declared that it backs ECOWAS' efforts to bring Bazoum – an ally of Paris – back into power. However, the French government has not explicitly stated whether it supports direct military intervention.
You can share this story on social media: