Deposed Niger leader calls for US intervention
All of Sahel could "fall to Russian influence", Mohamed Bazoum has claimed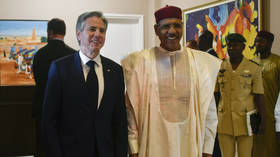 The Washington Post on Thursday evening published an op-ed purportedly written by the ousted Nigerien president Mohamed Bazoum, in which he asks for US help to defeat the military junta that seized power last week.
"I write this as a hostage. Niger is under attack from a military junta that is trying to overthrow our democracy," Bazoum said. Last Wednesday's coup "has no justification whatsoever" and is a "cynical effort to undermine the remarkable progress Niger has made under democracy," he insisted.
"I call on the US government and the entire international community to help us restore our constitutional order. Fighting for our shared values, including democratic pluralism and respect for the rule of law, is the only way to make sustainable progress against poverty and terrorism," the ousted leader wrote.
As a key argument, Bazoum brought up that earlier this year, US Secretary of State Antony Blinken called Niger "a model of resilience, a model of democracy, a model of cooperation."
Bazoum argued his government had made great progress in "economic and social governance," partnering with the Indiana National Guard to reduce terrorist threats, while USAID shifted its focus from humanitarian work to "building sustainable energy, improving agricultural productivity and educating the next generation of Nigerien leaders."
He revealed that foreign aid makes up 40% of the country's budget, but is now blocked due to sanctions by the Economic Community of West African States (ECOWAS), which Bazoum endorsed.
Niger "stands as the last bastion of respect for human rights amid the authoritarian movements that have overtaken some of our neighbors," Bazoum argued, criticizing Mali and Burkina Faso for employing "criminal Russian mercenaries" such as the Wagner Group, "whose brutal terrorism has been on full display in Ukraine."
Unless the US and ECOWAS intervene, Wagner will have an "open invitation" into the region and all of central Sahel "could fall to Russian influence," Bazoum wrote.
He did not make a single reference to uranium, Niger's key export to former colonial master France. Earlier on Thursday, the junta led by General Abdourahamane Tchiani denounced all military agreements with Paris, including the deal under which France kept around 1,500 troops in the country. Tchiani also condemned the ECOWAS sanctions and said his government will respond with force to any outside intervention.
You can share this story on social media: