No evidence Russia involved in Niger coup – Italian FM
Rome is walking a fine line in the African nation, Antonio Tajani has revealed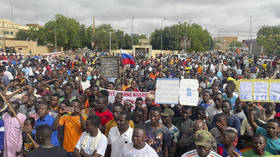 The Italian government has no evidence that Moscow could have been involved in the military coup in Niger, Foreign Minister Antonio Tajani told the daily La Repubblica on Thursday. The turmoil in Niger took both the US and France by surprise, he also revealed.
Moscow has condemned last Wednesday's coup as a violation of the Nigerien constitution and called on all sides to refrain from violence. ECOWAS, a Western-backed bloc of West African countries, has imposed sanctions on the junta in Niamey and threatened a military intervention to restore President Mohamed Bazoum to power.
"We have no information of Russia's involvement in the Nigerien events, or the preparation of the coup," Tajani told the outlet when asked whether Moscow was playing some kind of game in the Sahel nation. He dismissed the Nigerien protesters carrying photos of Russian President Vladimir Putin as "more anti-French than anything else."
"Many, perhaps all in Europe, have been taken by surprise" by the coup, Tajani said. "Nobody knew about it, neither the US nor France." Both countries have over 1,000 troops in Niger and drone bases for counter-terrorism operations. There are 350 Italian soldiers currently in Niger, and they are keeping to their barracks for now, the foreign minister said.
The Nigerien authorities were also blindsided, Tajani added, noting that the Nigerien PM Uhumudu Mahamadou was in Rome for a UN food summit.
When pressed about the Russian role in the region, he said that the alleged presence of Wagner Group members was "another matter" and that Russia has "infiltrated that region skilfully for years."
Italy favors "any diplomatic attempt to find an agreement," Tajani told La Repubblica. "Democracy must be restored. But we want peaceful solutions to be found. We have also always been against the proposal of any European military intervention." He added that his French counterpart Catherine Colonna "never" broached the subject of intervention with him.
Niger's neighbors, Mali and Burkina Faso, have said this would amount to a declaration of war against them as well.
Meanwhile, Wagner Group head Yevgeny Prigozhin has described the events in Niger as a justified rebellion of the people against Western exploitation, citing the example of uranium shipped to France. He argued the Nigeriens have been "kept in fear for decades" by the gangs of terrorists backed by the West, and that their presence was then cited to justify the deployment of troops to the West African country.
You can share this story on social media: