Response to Niger coup may escalate into 'world African war' – expert
Western and regional crackdowns on the new military government could trigger a wider conflict, an activist has told RT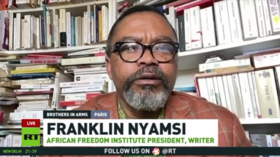 A Western-driven campaign to force Niger's acting government to restore former President Mohamed Bazoum to power following last week's military coup could bubble up into a wider conflict pitting NATO powers against Russia and China, an activist has told RT.
"We are now at the door of a world African war," African Freedom Institute President Franklin Nyamsi said on Thursday in an RT interview. He added that should the Economic Community of West African States (ECOWAS) take military action, as threatened, to remove Niger's new government, such allies as Burkina Faso and Mali will likely come to the country's defense.
ECOWAS and the West African Economic and Monetary Union (WAEMU) imposed sanctions on the new Nigerien government last week, suspending all financial transactions and freezing the country's assets in ECOWAS-member states. Regional development banks cut off all assistance, as did the EU and France. The US and the African Union also threatened to follow suit. ECOWAS demanded that the junta restore Bazoum, who has been under house arrest since the coup, by August 6 or face military action by the regional bloc.
Nyamsi argued that ECOWAS was acting on behalf of US and NATO interests, as did Bazoum, and had no authority in its charter to attack one of its members. The ECOWAS heads of state who back the bloc's response to the Niger coup are dictators who have been responsible for government overthrows in their own countries, Nyamsi claimed.
"They're working for foreign interests, imperialist neocolonialist interests," he said. "And the organization is permanently following the decisions of French political powers, of European political powers, of American political powers."
A military intervention by ECOWAS would be a "declaration of war" not only against Niger, but also against dissenting members, including Burkina Faso, Mali and possibly Guinea, he added. "Those countries have clearly stated that they are against the repetition of what happened against Libya in 2011," when NATO overthrew the government, killed President Muammar Gaddafi and armed Islamic terrorists, Nyamsi said.
The result was greater destabilization of the Sahel region, which continues to this day, the activist claimed. "It is unbelievable that ECOWAS involves itself in a new attack on NATO's inspiration against African interests and just because capitalistic oligarchy at the head of NATO has a lot of intention of keeping its hand on the wonderful natural resources of Africa," he said.
The two ECOWAS factions – pro-NATO vs. pan-African – might not only fight each other, but also seek assistance from their powerful allies, Nyamsi said. Niger's backers would likely call on Russia, China and Iran for help. "Possibly they want to export a world war in Africa between, finally, the two main blocs of the old Cold War," he warned. "We don't need that in Africa."
Making the situation even more volatile is the fact that many of the Western weapons sent to Ukraine to use against Russian forces have wound up in West Africa, Nyamsi said. "We are in a dangerous situation for all the planet. If we don't use negotiation, if we don't seek consensus, if we don't respect international law for the powerful countries and the less powerful countries, we are going to collapse for all of humanity."
Nyamsi argued that Western military involvement in Africa, including the US counterterrorism bases in Niger, has further destabilized the continent. "There is no confidence that those who destroyed Libya, who killed Gaddafi in the NATO coalition, are seriously fighting against terrorism," he said.
You can share this story on social media: